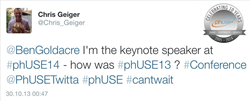 PhUSE offers great insight into the thoughts of industry influencers to help shape the industry
(PRWEB) June 04, 2014
PhUSE is proud to announce Chris Geiger and Dr. Fergus Sweeney as keynote speakers for their 10th annual conference which is themed "Data Transparency". Following keynotes from Dr. Ben Goldacre in 2013, Charles Sabine in 2012 and Professor Lord Winston in 2011, PhUSE again presents high caliber speakers to talk about relevant topics for professions who are passionated about advancement of clinical information.
Chris Geiger is an award-winning Columnist and Guinness World Record holder. Chris has endured two years of cancer treatment which included a number of operations, radiotherapy, chemotherapy and a bone marrow transplant before he was finally in remission. His inspirational book "The Cancer Survivors Club" is a must read for the millions of cancer patients worldwide. Chris Geiger will speak at the PhUSE 2014 conference about his survival from cancer and his struggle to believe he was just 'unlucky'. After being announced as PhUSE 2014 keynote speaker, Geiger excitedly spread the news via Twitter and shared his excitement with his keynote predecessor Dr. Ben Goldacre.
Dr. Fergus Sweeney is Head of Inspections and Human Medicines Pharmacovigilance Division at the European Medicines Agency. The Division is responsible for pharmacovigilance, including signal detection and management and monitoring of products on the market, and provides leadership for the Agency's pharmacovigilance system. Prior to joining the Agency he worked in industry from 1982 to 1999, covering phase I-IV clinical research, pharmacovigilance and laboratory activities, primarily in the field of quality assurance. At PhUSE Dr.Fergus Sweeney will give an update of the EMA activities with focus on the data transparency initiative.
Previous PhUSE annual conferences started with keynotes at the first day of the conference. This year PhUSE is planning to have a different keynote speaker every day and a third keynote speaker will be announced soon. With a good mix of patient centric and regulatory agency speakers PhUSE offers great insight into the thoughts of industry influencers to help shape the industry.
This year the PhUSE annual conference will take place October 12th to 15th at the Grange Tower Bridge Hotel in London. The conference is themed "Data Transparency" another hot topic of the industry. Registration for the conference is open with an option to get a discount on the ticket price for attendants who register prior to June 27th.
About PhUSE
PhUSE, Share – Contribute – Advance, provides the industry with the premier platform for creating and sharing ideas, tools and standards around data, statistical and reporting technologies; PhUSE is a non-profit, volunteer-supported, community of professionals who are passionate about advancement of clinical information. Since its inception, PhUSE has expanded from its roots as a conference for European Statistical Programmers, to a global platform for the discussion of topics encompassing the work of Clinical Data Scientists and eClinical IT professionals.