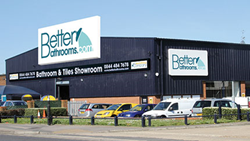 (PRWEB UK) 3 June 2014
Better Bathrooms Makes a Move Into Slough
Commercial property consultants Robert Pinkus & Co. are proud to announce award-winning Better Bathrooms, the largest independent bathroom and tiles retailer in the UK, have opened a new showroom in Slough.
As part of the company's progressive expansion plans, the new showroom at 353 Bath Road, Slough, will be the company's first outlet in the South East of England and their fifth showroom in the Better Bathrooms portfolio, with successful stores in Wigan, Warrington, Manchester and Leicester plus a Trade Counter in Leigh and http://www.betterbathrooms.com.
With two floors of bathroom suites and tiles, set in a 17000 square feet. unit, the showroom is set to have a big impact on the community starting with the creation of eight new jobs in Slough and 20 new jobs within the company.
Better Bathrooms take the detached retail warehouse, formerly Tempo and more recently Lakes premises, on a 10-year lease from landlords Datamede Ltd. Focus Commercial acted for the landlord and Robert Pinkus & Co. acted for Better Bathrooms.
The Slough showroom Manager Paresh Nagar said, "This is the first Better Bathrooms showroom in the area and it is a fantastic opportunity to bring our high quality products and service to the South East. We have a state of the art showroom to make your choice of a dream bathroom a reality. also to compliment your bathroom a dedicated tiles showroom in store, with a large selection of quality wall, floor and mosaic tiles on display. We look forward to welcoming you all where we aim to do our best to make your bathroom a Better Bathroom."
Area Manager for Better Bathrooms, Pete Thornton, explains, "The new showroom in Slough is an exciting development for Better Bathrooms. We pride ourselves on providing an exceptional buying experience for our customers, offering quality products at internet prices, whilst using the latest technology and offering free WI-FI in store. We have recruited a great team who are friendly and knowledgeable. We are very excited about the store and the opportunity to be part of the Slough community."
CEO and Founder, Colin Stevens, added, "I spent a long time looking for the perfect location for the fifth store and Slough ticked all the boxes. The new showroom looks great and the team have been working hard to ensure they are experts on all our products and services. The Slough showroom is a fantastic addition to the Better Bathrooms brand – we're all really excited to see the store open."
In 2007, Better Bathrooms annual turnover stood at just over £1m and in the last financial year, the turnover was over £40m. The company aims to double their growth over the next three to five year and the Slough store will be a big part of this. Better Bathrooms have had an exceptional 18 months, winning 17 awards, including the prestigious National Business Award and featured in the 2012 Sunday Times Fast Track 100 and 2014 Sunday Times Profit Track 100.
Joe Assalone, Partner at Robert Pinkus & Co. said, "We are pleased to secure this prominent site for Better Bathrooms, one of many new showrooms in the pipeline for the retailer. The company is excited and eager to move into Slough, a priority city for the company, and we wish them every success in their new location."
The search for new retail sites continues with the well-established, well-funded company looking to secure properties from 15,000 to 20,000 sq ft over maximum two floors in highly visible, easily accessible, non-prime retail locations throughout the UK.
For more information about Better Bathrooms please go to http://www.betterbathrooms.com.
Better Bathrooms Slough Showroom is open now.