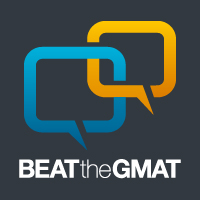 Arlington, VA (PRWEB) June 03, 2014
Hobsons today announced its distribution of more than $18,000 to eight Beat The GMAT Scholarship winners. Winners of the 2014 Beat The GMAT Scholarship each demonstrated perseverance, vision, and innovation– critical elements of leadership that define the success of many of today's most accomplished business executives. Congratulations to the winners:

Jade Franco – United States
Michael Christopher Morales – United States
Julie Schumann – United States
Joseida Rosario – Dominican Republic
Shannon Marie Van Splunder – United States
Lady Geraldine Lockhart – Unites States
Henry Do – United State
Kristeen Reynolds – United States
"We were hugely impressed this year with the level of talent conveyed by submissions of our annual scholarship," said Dan Mecher, product manager of Beat the GMAT. "We couldn't be happier to congratulate our winners and to wish them the best in their MBA journeys."
Beat The GMAT scholarship winners are selected based on financial need, professional references, and personal essays outlining interest in the scholarship and a clear determination for why the applicant is pursuing an MBA. In addition, scholarship winners must also exude a strong capacity for collaboration, integrity, creativity, motivation, professionalism, and a potential for leadership.
For the 2014 competition, winners will receive a $250 voucher for GMAT registration fees, a full GMAT test prep course, and MBA admissions consulting services. The following companies made generous donations to make these prizes possible: Admit Advantage, Admissionado, Clear Admit, GMAT Prep Now, Economist GMAT Tutor, Kaplan, Manhattan GMAT, MBA Admit, mbaMission, The Princeton Review, Stratus Prep, and Veritas Prep.
Since 2006, Beat The GMAT has distributed more than $200,000 in scholarships and prizes to MBA applicants from all over the globe, including the U.S. and Canada, South America, Middle East, Africa, and Asia.