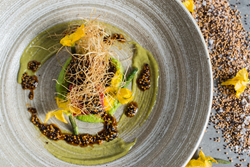 "We wanted our new website to complement the updated menu release, and it was very important that our digital presence reflect the restaurant itself."
Ferndale (PRWEB) June 03, 2014
TORINO is delighted to announce they will be expanding their tasting menu starting this month of June. The once five-course menu has changed to a nine-course bill of fare, with some exotic ingredients and course offerings lasting just days while others will last the entire month. The menu will be $89 per person, with an optional beverage pairing or reserve pairing available. Vegetarian and dietary restrictions will be honored with 48-hour notice.
The highly acclaimed restaurant based in Ferndale, Michigan has delivered guests with a culinary experience unlike any other Metro Detroit has to offer. Head Chef Garrett Lipar's impressive culinary background and inherent passion for fine food guarantees an enjoybale dining experience. In addition to Torino's diverse culinary presentations, Beverage Director Ian Redmond adds the finishing touch, serving adventurous cocktails made with ingredients from around the world for guests to enjoy.
Torino's owner Noah Dorfman could not be more pleased with the changes that have come about for the restaurant: "We wanted our new website to complement the updated menu release, and it was very important that our digital presence reflect the restaurant itself. June has finally arrived and we are looking forward to providing guests with an even more innovative experience, and the new look and feel of the website ties it all together."
The new website at torinoferndale.com was developed and designed by Shapeless LLC, an up-and-coming web design and marketing firm based in Detroit's Chrysler House. The updated and upgraded web application includes:
+ A design and development overhaul
+ Responsive design for mobile devices
+ Reservation information and links to Open Table
+ Click to call
+ Social media integration and up-to-date press page
+ Monthly tasting menu
+ Cocktail menu
Articles, awards and accolades received by TORINO and Head Chef Garrett Lipar include:

"Torino: 2014 Detroit Free Press Restaurant of The Year." March 3, 2014 by Sylvia Rector
Torino's Garrett Lipar: Eater Young Guns Semi Finalist: 2014
"Torino's Garrett Lipar: Eater Young Guns Semi Finalist: 7 Things to Know" by Victoria Trudeau, May 21, 2014
Crain's Detroit Business Review: Torino, October 2013
Hour Restaurant Review: Torino, October 2013
"Tasting Menu at Ferndale's Torino Delivers a Memorable Dining Adventure." September 2013, by Sylvia Rector