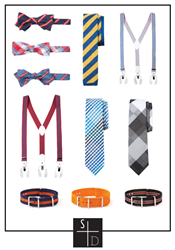 I have encountered an amazing amount of differentiating details that makes each product and product line unique.
Lynbrook, NY (PRWEB) June 04, 2014
New York based menswear brand, Salt + Dapper, is a new venture launched by a highly successful menswear accessories group with strong connections in the fashion industry. Salt + Dapper boasts an infrastructure and manufacturing process that allows the company to source and perfect products made in the United States.
The company is headed by Jack Fischman, a Long Island resident who brings 10 years of menswear experience to the cutting table. "Having worked closely with over a dozen factories on hundreds of custom projects, I have encountered an amazing amount of differentiating details that makes each product and product line unique." It is this attention to quality and perfected detail that shapes the Salt+Dapper line.
Fischman and his company possess a sizeable amount of resources from fabric sourcing to production facilities; enabling the company to present a highly curated line of select accessories.
Salt + Dapper released their Spring Collection in March 2014 much to the delight of their customer base. The inspiration for the Spring Collection can be attributed to the laid back elegance of the Gold Coast of Long Island, where the brand is based. The line was designed to allow customers to carry styles through spring and summer with light and breathable material. Staying true to its classic and clean styling, Salt + Dapper sourced breathable cotton fabrics to create their oxford and seersucker ties and bow ties. There are also some surprising elements to the collection, like an array of colored dress shoelaces or interchangeable summer nylon watch straps. Perhaps the most noteworthy piece of the selection is the handmade grosgrain suspenders sourced in New York and manufactured by New York City Tailors.
About Salt + Dapper
Salt + Dapper is a men's accessory brand based on Long Island, New York that brings years of experience and expertise in fabric, construction, detailing, styling and merchandising. The company opened its doors in 2013 but has deep roots in the contemporary men's fashion industry. Salt + Dapper's styling can be described as a fusion of classic design and modern aesthetic with its creation of ties, scarves, suspenders, and accessories. Products are catered for individual or wholesale purchase.
To learn more visit: SaltDapper.com Facebook.com/SaltDapper Twitter.com/SaltDapper