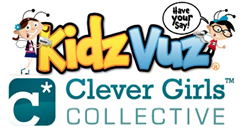 New York, NY / San Francisco, CA (PRWEB) June 04, 2014
Social media agency Clever Girls Collective has partnered with KidzVuz, a safe, monitored online platform dedicated exclusively to user-generated video reviews by kids for kids, to launch the first family influencer network -- Clever KidzVuz Network.
The Clever KidzVuz Network, an exclusive initiative between the two companies, reaches and engages both moms and kids, combining the social media and native content creation of Clever Girls Collective with KidzVuz's authentic engagement and targeted reach in the kid and tween space to offer a comprehensive mix of social media and online video campaigns.
Clever Girls Collective, which recently won three Shorty social media awards for its popular #SFBatkid Make-A-Wish viral campaign, connects brands with its vetted network of 6,500 female social media influencers reaching 60 million unique visitors per month. Joining forces with Kidzvuz allows Clever Girls to broaden its offerings to clients, which have included American Express, Duncan Hines, Bing and Dove, creating a family influencer strategy where KidzVuz's unique kid-generated videos can be amplified through the Clever Girls influencer network across multiple social channels including Facebook, Twitter, Instagram, Pinterest and blogs.
A media and entertainment company dedicated to delivering safe, creative and empowering products to kids and their parents through interactive media, mobile apps, brand marketing and live events, KidzVuz runs the only COPPA-compliant website and iOS app dedicated exclusively to encouraging tweens to create and share videos about the products and brands they love. Kidzvuz has worked with companies including Mega Brands, Random House and Nintendo, and events such as the Tony Awards. With eighty-three percent of kids watching an average of 255 videos every month (*), it is clear that kids love online video.
A select group of KidzVuz reporters, called Star Reviewers, cover movie premieres, Broadway openings, and more, lending a unique kid perspective to the media landscape. Through the new partnership, children of social media influencers will have the opportunity to be Star Reviewers, and receive giveaways, red carpet opportunities and exclusive event invites in exchange for reviews on the KidzVuz site.
KidzVuz will tap into its network of Star Reviewer kids across the country to choose "kid ambassadors" for brands and seed kid-generated video content, while Clever Girls will amplify this native content through their online influencer network. KidzVuz will also host COPPA-compliant contests to further engage real kids online.
"Many of our clients want to reach kids as well as adults," said Cat Lincoln, CEO of Clever Girls Collective. "Given the latest research by Nickelodeon that shows that parents in both the U.S. and internationally seek their kids' opinions when buying products for them, we are confident that the Clever Kidzvuz Network taps into that important family dynamic on behalf of our brand partners because we are now the only social media agency to offer a 'total family influencer solution' reaching both moms and kids simultaneously."
"Tweens have $43 billion to spend all of it disposable income – and recent research shows that they look to their peers to decide how to spend it (**)," said KidzVuz co-founder Rebecca Levey. "By partnering with Clever Girls Collective, we are able to give kids a larger platform to express themselves, expand our audience of parents and children, and connect with brands, while staying true to our commitment - providing the best kid-generated content on the internet."
About KidzVuz
KidzVuz is videos by kids for kids. The first and only COPPA-compliant platform exclusively for user-generated kid video reviews, KidzVuz lets kids 7-13 have their say in a safe, monitored space. Launched in 2011, the KidzVuz award-winning website and iOS app empower tweens to create and share videos about the things they love, including books, movies, theater, fashion, travel, tech, toys and more. KidzVuz reporters cover movie premieres, Broadway openings, and more, lending a unique kid perspective to the media landscape. KidzVuz has been featured in the Wall Street Journal as a top site for tweens, Teachers First as an educational resource, and was named a best new site of 2011 by Cool Mom Picks.The KidzVuz app was named by EW.com as one of the Top Ten Apps for Kids of 2012. For more information, visit: http://www.kidzvuz.com.
About Clever Girls Collective
Clever Girls Collective, Inc. is an award-winning content and social media agency that connects brands with a vetted network of over 6,500 female social media influencers, reaching more than 60 million unique visitors per month. Their product suite and proprietary technology platform create authentic and compelling user-generated content and native advertising for brands across all social media outlets. Clever Girls Collective's programs are scalable, measurable, and drive results. Female founded and run since 2009, Clever Girls Collective is based in the San Francisco Bay Area and can be found at CleverGirlsCollective.com or via Twitter, Facebook, Pinterest, Instagram @CleverGirlsColl.
*Source: comScore Video Metrix, December 2013
**Source: EPM Research and Markets study, 2008