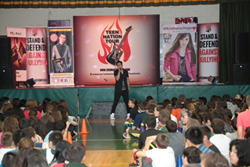 I want to let kids know they need to stand up and defend against bullying!
New York, NY (PRWEB) June 04, 2014
In the US alone it is estimated that 160,000 children miss school every day due to the fear of attack or intimidation by their peers. Schools in today's society harbor approximately 2.1 million bullies and an astonishing number of 2.7 million victims. Today, 1 in 7 students in grades K-12 is either a bully or a victim (Source: National Education Association). With social media use rapidly growing, this is only spreading the bullying problem at an alarming rate, and creating the recent issue of "cyber-bullying". The Teen Nation Tour continues a year-long anti-bullying campaign and concert tour featuring teen recording artists from around the country. It has already proven to be making a difference in schools who are struggling with this problem. The artists will perform for the first time in Pennsylvania, New Jersey and the New England area states at over 30 schools and dozens of community events, reaching more than 30,000 students and administrators from May-June.
The Teen Nation Tour is like no other anti-bullying effort. It is one of the first peer-to-peer anti-bullying campaigns that includes a concert tour in which young, talented recording artists will perform and speak at schools across America educating and empowering next generation students through music and personal stories. The school program is 90 minutes of engaging content. Students learn about the different types of bullying, means of prevention, where to turn to when it occurs and more. The campaign is seemingly effective as the artists approach this important topic by relating to their audience on their own level. The artists offer tips on how they can stand together and defend against bullying.
Headlining the Tour is Jersey's very own teen sensation, Zach Matari. Zach Matari has been traveling throughout the country performing his original songs on stage to thousands of fans. He has toured with R5 featuring Disney's Ross Lynch from "Austin & Ally, X-Factor's Fifth Harmony, Midnight Red and many other popular groups. Zach recently toured the Dominican Republic and was featured on over 25 TV shows and radio stations throughout the country. Last week, Zach returned to his hometown of Montville, NJ for the Anti-Bullying Teen Nation Tour assembly at Lazar Middle School. Zach spoke to students about several anti-bullying topics and shared his own experience when he was a student at Lazar. Zach closed the show with a music concert and his original song "Up To You" to over 1200 students. Additional guest speakers and performers included Kristina Lachaga of Philadelphia, PA, Tru Fam of Philadelphia, PA and Darla Beaux of Los Angeles, CA. Zach is scheduled to travel with the tour through September, visiting schools in Massachusetts, Connecticut, Rhode Island, North Carolina and Virginia.
http://www.zachmatari.com
http://www.facebook.com/zachmatari
http://www.twitter.com/zachmatari
http://www.youtube.com/zachmatari
http://www.instagram.com/zachmatari