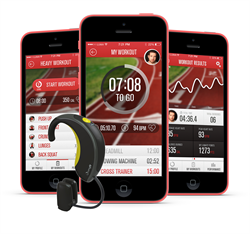 Tracks gym sessions automatically... press go and Lumafit does the rest.
(PRWEB) June 03, 2014
Wearable technology has up to now focused on gathering data such as step counting to help improve our health. Good health though is about much more than counting steps. Two MIT MediaLab researchers Darran Hughes and Stephen Hughes have teamed up to create Lumafit, a virtual fitness coaching system that goes way beyond what's possible with the current wrist based devices. Lumafit uses head motion tracking to provide interactive bootcamp workouts for home fitness together with the ability to automatically track gym session; the Lumafit knows what machine is being used from treadmill to rowing machine. Now on kickstarter the Lumafit has already blasted by its $60,000 target goal.
The Lumafit is a sleekly designed ear worn headset that measures motion and heart rate throughout your workout. Exercises have unique 3D head trajectory "signatures" that the Lumafit can identify and rate. Xbox kinect style home workouts including sit-ups, press ups, lunges, squats and burpees. Workouts range from relatively easy to intense. Against the clock sessions will push even the fittest athlete to their limits.
At the gym the Lumafit tracks cardio sessions automatically. It knows what gym machine is being used and provides a range of statistics such as cadence, impact force and calorie burn rate. A unique feature of the Lumafit fitness program is "what's your heart age?"; based on the hearts response to exercise the Lumafit gives you an estimate of heart age and the ability to set targets to reduce heart age through its fitness program.
Lumafit is partnered with Liam Casey's PCH International as part of their accelerator program and will be shipping first units in October 2014. With running and cycling apps in the pipeline the Lumafit is set to become the most useful fitness tool on the market.
With less than 4 days to go in their kickstarter campaign, supporters interested in Lumafit can be the first to get their hands on the device for the kickstarter only price of $79.