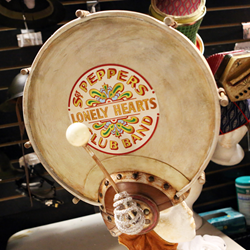 Las Vegas, NV (PRWEB) June 06, 2014
With Father's Day about a week away, honor a father, grandfather or father figure with vacation plans – and what better way to make this a Father's Day like never before than to head to Las Vegas! While there are plenty of things to do with dad on Father's Day, BestofVegas.com has gone through the city's plethora of shows this Father's Day weekend to compile the Top 5 shows best for Father's Day. From Broadway to comedy to Cirque du Soleil productions, taking dad to one of these shows will definitely be the highlight of the day!
The Beatles LOVE – Cirque Insider Access and show
Located at the Mirage, this show features music from one of the greatest rock bands of all-time. But, this exclusive BestofVegas.com Cirque Insider Access package on isn't just tickets to the show – guests will tour the backstage with the Cirque Insider Access tour guides that will show everyone the many props and areas of the backstage, plus venture to see the stage at every angle, including from 52 feet above it! There's even a chance to come face to face with the performers themselves in the green room as they prepare for that evening's performance. After the tour with Cirque Insider Access tickets, guests experience LOVE from the best seats in the house. The tour is one hour long and also includes an Insider Access lanyard, gift bag, show program, and front-of-the-line access to the Revolution Lounge.
Jeff Dunham's Disorderly Conduct
Jeff Dunham brings his hilarious mix of comedy and ventriloquism to the Colosseum at Caesar's Palace. Dunham has wowed millions with his "Comedy Central" specials, and his YouTube clips have amassed a whopping 140 million hits. With fan-favorite puppets such as Peanut, Achmed, Walter and Jose Jalapeno on the Stick, see one of the most successful touring comedians in the world as part of the Father's Day festivities!
David Copperfield
There are many names synonymous with magic, but David Copperfield may be the biggest of all. Be amazed as this world-renowned magician performs some of his favorite tricks with the audience, as everyday people become part of the show. This performance relies heavily on audience interaction and participation, so be prepared for the chance to be hand-picked from the audience. This show is unlike any other in Vegas in that it doesn't have showgirls or flashy lights or costumes – this is simply a show about Copperfield and his illusions. But don't think because it lacks those extras that it lacks in entertainment value – on the contrary, this show will leaves people astonished minute after minute!
Raiding the Rock Vault
Some of the top performers from the most popular rock bands over the past four decades have put together an ensemble known as Raiding the Rock Vault at the LVH Hotel and Casino. John Payne (Asia) is on lead vocals, with Paul Shortino (Quiet Riot), Doug Aldrich (Whitesnake) and Howard Leese (Heart, Bad Company) to make up a super band that performs the greatest rock 'n roll hits of all-time from legendary groups like The Who, The Rolling Stones, Jimi Hendrix, Aerosmith, Journey, and Queen. Re-live the past while rocking out with Dad!
Recycled Percussion
Recycled Percussion dazzled the nation on "America's Got Talent," and now they are dazzling guests at the Quad Showroom in Las Vegas. Featuring a performance in which they play percussion on almost anything, this quartet plays songs that everyone in the audience will know and love. Audience members can even get in on the show with their very own drumstick and instrument when they walk in, which takes the term "audience participation" to a whole new level. Everyone in the family, especially dad, is sure to be entertained by this one-of-a-kind Sin City show!
About BestofVegas.com
BestofVegas.com is an Entertainment Benefits Group Company (EBG) and has been delivering Las Vegas travel fun since 2001. Negotiating the best rates on hotels, tours, and shows, we work directly with partners to help visitors save money and really explore Vegas. EBG operates more than 35 locations in Las Vegas with a customer service call center available seven days a week. BestofVegas.com delivers special offers, exclusive Cirque du Soleil backstage tours, and great deals on what makes Vegas so fun.