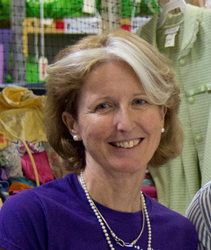 Everyone, no matter how modest your means, everyone has the desire and capacity to give back and help in some way.
Wayne, PA (PRWEB) June 04, 2014
BetterWorldians Radio today announced that Michal Smith, Executive Director of Cradles to Crayons, was a guest on the weekly Internet radio show. BetterWorldians Radio inspires with the people and ideas that are making the world a better place. The show featuring Smith aired on Thursday, May 29th and is now available via podcast on the VoiceAmerica Variety Channel (http://BetterWorldiansRadio.com).
Smith discussed how Cradles to Crayons works to provide children from birth to age 12, living in low-income and homeless situations, with the essential items they need to thrive at home, at school and at play. Smith said it all gets done by the generosity of thousands of volunteers, which she called an inspiration."Everyone, no matter how modest your means, everyone has the desire and capacity to give back and help in some way," said Smith.
BetterWorldians Radio co-host Ray Hansell said, "Cradles to Crayons is a lean, efficient organization that makes every dollar count while providing kids with the things they need for a happy life. That's why we were proud to make Cradles to Crayons our charity partner for the month of May in our game on Facebook, A Better World. Our players completed 500,000 good deeds within the game and so we are donating funds to provide 100 children with backpacks full of clothes and books."
About BetterWorldians Radio:
BetterWorldians Radio is a weekly Internet radio broadcast on the VoiceAmerica Talk Radio network that has provided a platform for some of the most inspiring people and organizations in our world today. BetterWorldians Radio is hosted by Ray, MarySue and Gregory Hansell, the family team that created the popular game on Facebook, A Better World. BetterWorldians Radio airs live on Thursdays at 11 a.m. ET on the VoiceAmerica Variety Channel and has featured guests such as best-selling authors Ryan Carroll (CEO of Summertime Entertainment and producer of Legends of Oz: Dorothy's Return), Tom Ziglar (CEO, Ziglar, Inc.), and Tiny Buddha founder Lori Deschene. To listen to the show, log on to BetterWorldiansRadio.com. All shows will be available in the BetterWorldians content library on the VoiceAmerica Variety Channel for on-demand and podcast download.
About A Better World:
A Better World is a game on Facebook that rewards players for doing good deeds while helping to raise money and awareness for charities. Over 2.5 million people have performed over 22 million good deeds in A Better World to date. A Better World recently launched a worldwide Campaign for Kindness with the release of an animated video, http://ColorWithKindness.com.
About Michal Smith
Michal Smith joined Cradles to Crayons as Executive Director in November 2010. Following a B.Sc. (Hons) in Applied Biology from London University, Michal became a management trainee and executive coach at Harrods. After moving to the United States, she co-founded Silicon Gallery Fine Art Prints which became one of the nation's leading large format fine art digital print making studios. Recruited as Executive Director for The Print Center in Philadelphia, to broaden her fundraising experience she moved to Project Forward Leap, whose budget increased from $1.6 to $2.6 million during her tenure. Michal's fundraising, managerial, marketing, and production experience is supporting Cradles to Crayons in its continued growth in services. Learn more about Cradles to Crayons by going to http://CradlestoCrayons.org.