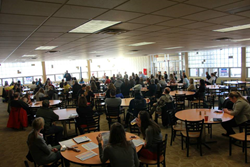 The metal ladder back chair is the most popular commercial chair across America.
Sterling, KS (PRWEB) June 05, 2014
Restaurant Furniture Supply recently helped Sterling College update their seating by supplying them with new commercial chairs and bar stools.
Sterling College is a Christ-centered four-year college located in Sterling, Kansas, with a mission to "develop creative and thoughtful leaders who understand a maturing Christian faith. Cooper Memorial College opened in 1887. The original name honored a revered former leader of the Presbyterian denomination which founded the College. The original curriculum offered four majors and a preparatory department offering high school courses for those students unable to attend such institutions in their home communities. The College included a "Classical Course" which was a general liberal arts emphasis, a "Normal Course" for prospective teachers, an "English Course" for future school administrators, and a business course.
These original curriculum choices remain the primary focus of Sterling College (renamed in 1920) today. Few other colleges in the United States have been able to retain their original focus while continually updating the content of courses and the techniques of teaching instruction.
In addition to liberal arts studies, the college also offers degree programs in athletic training, sports management, biology, chemistry, psychology, health science, criminal justice, elementary education, English, theological studies and business administration.
"The college's president turned to Restaurant Furniture Supply for commercial chairs for the college cafeteria because of their reputation for excellent quality at affordable prices," explained sales person Chris K. "He opted to go with the Metal Ladder Back Chair and matching bar stools with a black frame finish and solid wood seats in natural finish. It's one of our most popular chairs across America. As a college with many students he knew that they would be durable and stand up to heavy usage without getting wobbly or breaking, like a chair not constructed for commercial use would tend to do," Chris K. said.
Restaurant Furniture Supply's Metal Ladder Back Chair sells for $35. The Ladder Back Bar Stool sells for $54. Customers also have the option of a padded seat which made in the USA and comes in vinyl or fabric in many different colors. A custom seat can also be upholstered in any material for an extra cost. The solid wood seat is available in cherry, dark mahogany, walnut, natural and black finishes. A custom finish can also be made. The frame comes in black, gold, copper vein, silver vein or gold vein.
Restaurant Furniture Supply also makes a matching Ladder Back Metal Bar Stool which is on sale for $54 and Metal Ladder Back Chair with Arms that sells for $50. Many of their chairs can be paired with matching bar stools so restaurant owners can create a more cohesive look. Currently Restaurant Furniture Supply is offering free shipping on an order of 24 Rounded Ladder Back Metal Chairs or 16Ladder Back Metal Bar Stools.
Browse Restaurant Furniture Supply's full selection of commercial grade chairs, bar stools, table tops, table bases, booths and patio furniture at http://www.restaurantfurnituresupply.com/ or talk to a customer service representative at (888) 346-9992.
Sterling College is located at 125 W. Cooper in Sterling, KS. They can be contacted at: (800) 346-1017.