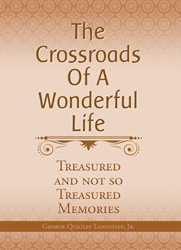 Although we all make mistakes, every choice we make takes us to the next place on our journey.
Nashville, TN (PRWEB) June 05, 2014
Imagine life's possibilities: What if she had selected a different major? Would the high school sweethearts have gotten married had they not broken up just before college? What could have happened if he had chosen to speed through that yellow light instead of screeching to a halt?
Each of these situations is a crossroad, a situation in which life could have gone in a direction opposite from the world one now knows.
George Q. Langstaff Jr. is no stranger to crossroads.
Langstaff tells about the decisions he has faced throughout his life in his autobiography, "The Crossroads of a Wonderful Life". Aptly subtitled "Treasured and Not So Treasured Memories," the author shares the highest of highs and lowest of lows throughout most of the last century.
An alumnus of University of the South (Sewanee) and Harvard Business School, Langstaff found success in his career in the footwear industry. He spent more than 30 years with Genesco, Inc., and retired as executive vice president and general manager of the footwear giant in 1980. Unable to stay away from the business he loved so much, he soon became president and CEO of Footwear Industries of America.
Readers will follow Langstaff through joys and pitfalls including a close-knit family, growing faith, Navy life, working on his farm and financial struggles and triumphs, but what he hopes they take away is simple: "Although we all make mistakes," Langstaff said, "Every choice we make takes us to the next place on our journey."
"The Crossroads of a Wonderful Life"
By George Q. Langstaff, Jr.
ISBN 978-1490813776
Available for purchase at Amazon, Barnes & Noble and WestBow Press.
About the Author
Originally from Paducah, Ky., George Q. Langstaff Jr. now resides in Nashville, Tenn., with his wife of 67 years. In addition to his many accomplishments in the business world, he is founder and chairman emeritus of The Sponsors Scholarship Program, which has helped more than 300 financially disadvantaged students achieve their dreams of higher education since the program's inception in 1996.
EDITORS: For review copies or interview requests, contact:
Courtney Alvey | 317.602.7137 | calvey(at)bohlsengroup(dot)com
(When requesting a review copy, please provide street address.)