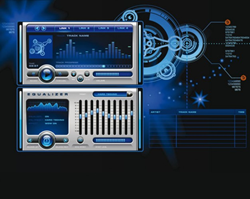 With a yearly growth rate of 8.2% there will be 450 millions users by 2015...
Los Angeles, California (PRWEB) June 05, 2014
According to the research made by Media Players Research Center, the usage of different media players will continue to increase in upcoming years. This is related to a growing interest of computer users to online media players and continuous development of media player softwares with extra program capabilities. Currently, the media player users are increasing with 8.2% rate year which is going to be at 7.5% in 2015 by reaching to around 450 millions.
There are also some other interesting results from the research. This is related with the operating system where media players are running on. Nearly all media players are working only on one operating system, like Windows, Mac OS X, Linux. These players offer many advanced features by improving their capabilities on one of them. Focusing on a single platform costs media player companies many lost users from other platforms. So, the future trend will be to create media players which can be run on all of systems. For example, VLC media players offer different codes for different systems, such as Windows, Mac OS X, Debian GNU/Linux, Ubuntu, Mint, openSUSE, Gentoo Linux, Fedora, Arch Linux, Slackware Linux, Mandriva Linux, ALT Linux, Red Hat Enterprise Linux, FreeBSD, NetBSD, OpenBSD, Solaris, Android, iOS, QNX, Syllable, OS/2 and VLC can be used on all of them.
The Center also examined main media players in the market and gave recommendations about the best ones. The following media players have been tested for their capabilities: BS Player, Daum PotPlayer, DivX Player, JetAudio, Kantaris, KMPlayer, Media Player Classic Home Cinema, MPCSTAR, RealPlayer, SMPlayer, Snow Player, VLC Media Player, Windows Media Player, Zoom Player Free. There are different factors for evaluating players, however, GOM Media Player, MPCSTAR, VLC Media Player and SMPlayer got the most points considering the overall performance.
The best free media players for Windows have been chosen as VLC Media Player, Media Player Classic – Home Cinema, GOM Player, PotPlayer and SMPlayer.
About the Company:
Media Research Center runs continuous researches in different areas of media, including media playing market. The Center owns different review websites. One of them is about VLC media player.
On this review website, you can get in-depth information about VLC Media Player, how to download it, its features, screenshots of the player in action, 100 interchangable skins to personalize your Media Player. The website also has an informative blog with posts about using VLC Media Player and some other technological information. You can visit the website at http://www.vlcmediaplayer.org/ and start using VLC Media Player on your computer for your different needs.