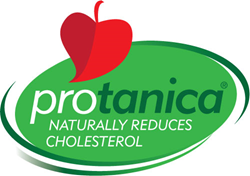 "We are seeing an increased interest among food manufacturers looking for non-GMO ingredients, including those that provide heart-healthy cholesterol-lowering properties. And that's good news for everyone."
Savannah, GA (PRWEB) June 05, 2014
Arboris®, LLC, "The Sterol Company," today announced that its plant sterol functional food ingredient, Protanica®, has received non-GMO verification from the Non-GMO Project, North America's only independent non-GMO verification lab. This important certification means that any non-GMO verified food product can incorporate Protanica® as a functional ingredient without concern of losing its non-GMO status. Protanica® now holds the distinction of being the only plant sterol that is currently registered by the Non GMO Project.
The Non-GMO Project evaluates and tests products for conformance to rigorous best practices for GMO avoidance. Products that pass are awarded The Non-GMO Project Verified Seal, which can be used on product packaging to demonstrate this high-level of non-GMO assurance. The seal provides important evidence to consumers concerned with GMO, as the verification is proven through a systematic program that evaluates both a product's ingredients (including testing of risk ingredients) and its manufacturing facilities to assess compliance with the Non-GMO Project Standard. This thorough assessment includes testing at numerous process points within the production chain (commonly after harvest), with each point requiring demonstration that the ingredient is in conformance with the Non-GMO Project Standard.
The movement towards non-GMO foods in the U.S. is following the EU's longer-established market trend where many EU countries prohibit genetically modified organisms in their foods. Protanica®, in fact, has been used as a functional food ingredient in Europe for many years, favored because it has been clinically proven to lower cholesterol naturally.
"Well established in European markets, the demand for non-GMO foods is continuing to grow in the United States as people want to know what is in the foods they are consuming," said Manuel Canales, President and CEO, Arboris, LLC. "As a result, we are seeing an increased interest among food manufacturers looking for non-GMO ingredients, including those that provide heart-healthy cholesterol-lowering properties. And that's good news for everyone."
Arboris introduced Protanica® to the North American market earlier this year. Initial markets include dairy, baked goods, yogurts and smoothies. Arboris provides special support to food manufacturers and retailers in order to help the formulation and launch of such products. As partners, food manufacturers can obtain royalty-free license to the Protanica® logo and name.
Protanica® provides distinct advantages over other plant sterols on the market today, particularly in that it is compatible with non-GMO certified foods. Other benefits include:

Naturally occurring
Clinically tested and demonstrated to be safe and effective
Endorsed by the American Heart Association
Easily formulated into heart healthy foods
Minimal sensory (taste, smell)/texture impact on food
Manufactured under cGMPs (current Good Manufacturing Practices)
Kosher and Halal certified
Can be stored at room temperature with an 48-month shelf life
Adding plant sterols into a person's diet has been clinically proven to reduce cholesterol. More than 200 human clinical studies over the past 50 years have shown that sterols are safe and effective in reducing LDL "bad" cholesterol by 8–10 percent.
The US Food and Drug Administration has approved the following health claim: "Foods containing at least 0.4 grams per serving of plant sterols eaten with meals or snacks for a daily total intake of 0.8 grams as part of a diet low in saturated fat and cholesterol may reduce the risk of heart disease."
About Arboris®, LLC and Protanica®
Protanica® is produced by Arboris, LLC, the world-leading non-GMO sterol manufacturer. Since 2004, when Arboris started its world-class manufacturing plants, the company has provided a long-term, reliable and dependable supply of plant sterols to major food companies in Europe and Australia. Protanica®, introduced in 2014, is a supported sterol product offered to North American food manufacturers and retailers. Unlike soy sterols, Protanica® is derived from a non-GMO and non-allergenic source.
For more information on Protanica® and its heart-healthy benefits, please visit http://www.protanica.com.