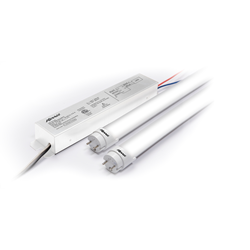 Gurnee, IL (PRWEB) June 04, 2014
Kenall Lighting, a leading provider of specialized commercial and institutional lighting solutions, has launched the first T8-LED retrofit kit that upgrades fluorescent luminaires to LED within minutes, while maintaining ingress protection and Wet Location listings for specific Kenall enclosures.
Designed for demanding environments, Kenall's T8-LED is the first replacement kit to offer a five-year combined lamp/driver warranty based on 24x7 operation in a sealed enclosure. The LED retrofit kit is ideal for parking garages, platforms, warehouses, gymnasiums, natatoriums, clean rooms, food processing and anywhere optimal lighting and energy savings are demanded in both interior and exterior applications.
The Kenall T8 Retrofit Kit features:

Approved for DesignLights Consortium® (DLC) Qualified Products List (QPL)
Ground-up design
Ceramic mid-power LED array reduces color shift and provides better lumen maintenance over time compared to typical plastic LED packages
5-year combined lamp/driver warranty for ingress protected and wet listed enclosures
LED lifetime (L70) of 100,000 hours
Extruded 6063-T5 aluminum heat sink for effective thermal management; reduces lumen depreciation and extends luminaire life
Extruded impact-resistant clear or frosted acrylic lens
3000K, 3500K and 4000K CCT; 80 CRI
RoHS Compliant
Easy to install, Kenall's T8 LED lamp outperforms both typical fluorescent and other LED T8 lamps. Virtually maintenance free with less lamp changes than a typical fluorescent lamp, the retrofit kit also provides 30% more energy savings than a F32T8 lamp.
About Kenall Manufacturing
Since its inception in 1963, Kenall Lighting, located in Gurnee, IL has been known for superior quality, exceptional value, and durable solutions, and it is proud to provide sealed lighting for containment or clean spaces, security lighting for detention facilities, and specialized healthcare and transportation applications. Kenall products are designed and manufactured in the USA and meet the guidelines established under the Buy American Act and the North American Free Trade Agreement. For additional information, visit http://www.kenall.com or call 1-800-4-KENALL.
#####