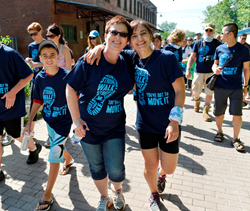 "The Walk also sends an important message to each Canadian living with arthritic pain: you are not alone." - Janet Yale, president and CEO, The Arthritis Society
Toronto, Ont. (PRWEB) June 03, 2014
This Sunday, June 8th marks the single biggest day for arthritis fundraising in Canada. The 5th annual Walk to Fight Arthritis unfolds in over 25 communities coast-to-coast, raising funds and awareness for the country's leading chronic condition.
The Walk unites families, friends and organizations in a common goal of delivering support and solutions for the over 4.6 million Canadian adults and children living with arthritis. A leading cause of disability, arthritis costs Canada's economy an estimated $33 billion a year in medical care and lost productivity. Funds from the Walk support promising research, education and local programs and care for Canadians with arthritis wherever they live.
This year's theme asks participants: "Who Moves You?" This reflects the fact that most participants are walking for someone close to them who lives with arthritis.
"Arthritis touches us all," says Janet Yale, president and CEO of the Arthritis Society, "which is why the Walk is so important. Coming together in communities across the country to show our support does more to raise awareness of arthritis, and the funds necessary to overcome it, than any other single day of the year. It also sends an important message to each Canadian living with arthritic pain: you are not alone."
London's Murray Sholdice is walking with his 11-year-old son Matthew, who developed juvenile rheumatoid arthritis at the age of 3. "The Arthritis Society helped Matthew recover from his initial flare with arthritis, and its ongoing physiotherapy services are a huge benefit to him," Sholdice says. "The Walk raises the level of understanding for a disease that, as a parent, is very tough to take. So many people, like me before Matthew was diagnosed, aren't aware that kids are susceptible to arthritis."
In Vancouver, 18-year-old India Dhillon will walk for her grandmother who's lived with rheumatoid arthritis for 30 years. "What really affected me the most was that, when I was younger, she was so lively and active," recalls Dhillon. "But in the past 10 years it's become so bad that she struggles to get out of bed in the morning. I feel helpless to ease her pain. By walking, I feel like I can give back and help others by getting out there and raising awareness."
To date, community support has helped the Walk to Fight Arthritis raise over $5.6 million.
For more information, visit http://www.walktofightarthritis.ca.
ABOUT THE ARTHRITIS SOCIETY
The Arthritis Society has been setting lives in motion for over 65 years. Dedicated to a vision of living well while creating a future without arthritis, The Society is Canada's principal health charity providing education, programs and support to the over 4.6 million Canadians living with arthritis. Since its founding in 1948, The Society has been the largest non-government funder of arthritis research in Canada, investing more than $185 million in projects that have led to breakthroughs in the diagnosis, treatment and care of people with arthritis. The Arthritis Society is accredited under Imagine Canada's Standards Program. For more information about The Arthritis Society and to make a donation, visit http://www.arthritis.ca.