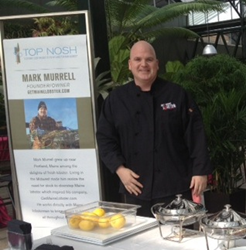 "My mission is to provide the highest quality seafood available," Greenlaw says, "harvested with environmentally friendly methods to ensure the integrity of our oceans as well as the health of us all."
PORTLAND, ME (PRWEB) June 05, 2014
Mark Murrell, CEO of GetMaineLobster.com (https://getmainelobster.com/), announced today that beginning June 1, GetMaineLobster.com and Linda Greenlaw will partner to offer consumers the ability to purchase lobster sourced through Greenlaw from Maine's outer islands and beyond.
This is the first time that consumers will be able to partake in such an opportunity, and it is offered online exclusively through GetMaineLobster.com.
Linda Greenlaw (https://getmainelobster.com/about-linda-greenlaw/) first came to the public's attention in Sebastian Junger's "The Perfect Storm," where he called her, "one of the best captains…on the entire east coast." A life-long commercial fisherman and seafood advocate, Greenlaw is passionate about sharing her experiences and love of the sea and what it provides.
"My mission is to provide the highest quality seafood available," Greenlaw says, "harvested with environmentally friendly methods to ensure the integrity of our oceans as well as the health of us all."
Mark Murrell shares the same commitment to sustainability practices that safeguard seafood and the seafood industry, and he supports Linda's efforts.
"We want to connect people from all over the United States with the high standards and quality that we know Linda can ensure," says Murrell. "And, as an extra feature, we will share Linda's favorite lobster recipes in each order shipped." Lobster sourced through Linda Greenlaw will be shipped from the waters of Maine overnight, directly to the consumer's doorstep – only by GetMaineLobster.com.
Greenlaw, America's only female swordfishing captain, is the author of three New York Times bestselling books about life as a commercial fisherman: THE HUNGRY OCEAN, THE LOBSTER CHRONICLES, and ALL FISHERMEN ARE LIARS. She is the winner of the U.S. Maritime Literature Award (2003), and the New England Book Award for nonfiction in 2004. Time magazine called her RECIPES FROM A VERY SMALL ISLAND, co-authored with her mother Martha Greenlaw, a "must-have cookbook."
Greenlaw has been featured in the hit Discovery Channel series, SWORDS: LIFE ON THE LINE (2009–2011), as well as Good Morning America, Today, CBS Sunday Morning, The Martha Stewart Show, and National Public Radio.
GetMaineLobster.com Standards:
GML's live Maine lobsters are caught by Maine lobstermen/women, dedicated to preserving the sustainability of the Maine lobster industry and engage in practices that ensure its health. Lobsters are hand-selected with care and humanely by experienced lobster-handling experts and packaged with sustainable, environmentally-friendly materials.
About GetMaineLobster.com:
GetMaineLobster.com, a division of Black Point Seafood and Black Point Gourmet, hand-selects the finest Maine lobster, seafood and beef products for convenient distribution throughout the United States. Their passion is to make fresh, quality seafood readily available to customers across the country, which is why they buy from only the most trusted, well-established suppliers to ensure that they receive the finest products available.
GetMaineLobster.com was selected out of the more than four million small American businesses served by Chase bank to represent its new Platinum Business Checking product for its 2013 national advertising campaign.