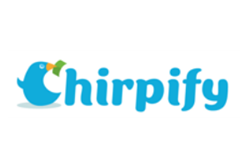 Portland, OR (PRWEB) June 04, 2014
Chirpify today announced the acquisition of the conversion analytics company, Measureful. The acquisition is a strategic extension of Chirpify's current marketing conversion platform, providing brand partners with unique data about cross-channel customer behaviors.
Brands using Chirpify's #actiontag platform, launched last fall, will now have access to real-time intelligence about consumers who respond via social media posts with the help of Measureful's dynamic reporting, allowing for higher brand conversion rates and better customer engagement. Chirpify's repeatable solution creates and captures value for brands looking to send targeted deals to current and potential customers.
"Cross-channel, customer life-cycle marketing is a huge opportunity for brands, but it is challenging for them to identify and convert customers across those channels," said Chris Teso, CEO of Chirpify. "Measureful's valuable insights will allow Chirpify's clients to optimize their current marketing efforts and reach the right customers across all channels."
Founded in 2012 by CEO John Koenig, Measureful automates the process of data collection, analysis and report presentation, providing marketers the information they need to make informed decisions. Measureful's Smart Reporting technology automatically analyzes, narrates and visualizes data, giving marketers concise and actionable direction.
"Our goal is to make marketing data clear and actionable, giving marketers a more focused view of where to best apply effort." said Koenig. "We look forward to joining forces with Chirpify to help brands drive more ROI from their social and mobile marketing."
Chirpify and Measureful are located in Portland, OR. The reporting technology will be available immediately. For more information, visit http://www.chirpify.com.
###
About Measureful
Measureful provides digital marketers and small marketing teams with a platform that helps them quickly analyze their multi-channel data by surfacing actionable, shareable, presentable insights and trends in the form of weekly and monthly stories. Measureful was founded in 2012 by CEO John Koenig and is headquartered in Portland, OR.
About Chirpify
Chirpify is a marketing conversion platform that leverages existing social channels for amplification and conversion. Chirpify partners with innovative brands to help them to capitalize on new conversion opportunities and provides unique insights about cross-channel customer behavior. Marketers are able to activate their campaigns using Chirpify's #actiontag technology, which consumers can post and share through social media. Since 2012, Chirpify has worked with hundreds of major brands and merchants to engage more than 400,000 consumers on their platform. Chirpify is headquartered in Portland, OR.