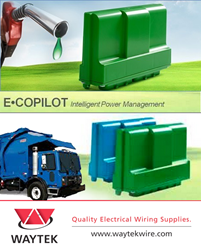 Minneapolis, MN (PRWEB) June 03, 2014
Waytek, Inc., a leading distributor of electrical wiring supplies, connectors, and relays for the mobile equipment market, now distributes the E-COPILOT by ITS, a device for automating the reduction of fuel consumption and emissions that can result in fuel savings of 10 percent or more.
The E-COPILOT device is a small box that commonly mounts behind a fleet vehicle's dash panel. By monitoring a number of data points within the vehicle's ECMs, the E-COPILOT manages the driver's access to engine power to optimize fuel economy and performance.
"Companies are currently spending millions of dollars attempting to correct inefficient driver behavior. In an economy that's working on tight budgets, this task becomes even more critical," said Jim Keister, marketing manager at Waytek, Inc. "E-COPILOT provides intelligent power management of both horsepower and acceleration that can save fleets 10 percent or more in fuel savings," added Keister.
Waytek is excited to have this fleet-proven technology in stock and ready to assist fleet managers with their cost savings initiatives. The E-COPILOT installs in less than two hours, meets Department of Transportation safety regulations, reduces maintenance costs, meets or exceeds all government standards, and does not affect manufacturer's warranty.
In addition to fuel savings, E-COPILOT eliminates aggressive acceleration without sacrificing necessary power. E-COPILOT reduces maintenance costs, fuel costs and decreases premature tire wear.
"As fleet managers look for ways to save money with tightened budgets, the E-COPILOT is a great tool for immediate fuel savings," said Keister. "With the cost of fuel and the number of hours that fleet vehicles log, this is an easy place to see an immediate impact in cost reduction."
The E-COPILOT can be installed in new or retrofitted into existing trucks. It requires no maintenance, works with all engine models of class 7 and 8 trucks, requires no permanent modifications to the vehicle, and the device stays with the vehicle as it's transferred to the next fleet.
To purchase E-COPILOT or to learn more, visit http://www.waytekwire.com.
About Waytek: Since 1970, Waytek has been providing electrical wiring supplies to OEMs in the truck body & trailer, construction machinery & equipment, agricultural equipment, and emergency vehicle markets. Waytek maintains a large inventory of over 10,000 different electrical supplies. Waytek prides itself on having the "Right Parts, In Stock, to be delivered On Time."
About ITS: Intelligent Transportation Solutions provides intelligent automation that is focused on reducing fuel consumption, harmful emissions, maintenance costs and improving safety. ITS is headquartered in Minneapolis, Minn. and has multiple years of experience in business, marketing, and vehicle engineering.