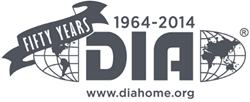 "FDA must change evidentiary standards to encourage innovation." - forum chairwoman Coleen Klasmeier
Washington (PRWEB) June 03, 2014
A forum on "FDA Programs to Encourage Innovation: Maximizing the Opportunities and Confronting the Challenges of New Product Development" will take place on June 17 at 10:30 a.m. as part of the DIA 2014 50th Annual Meeting at the San Diego Convention Center.
As FDA promotes its initiatives to add flexibility to the drug approval process, scholars scrutinize their real-world impact on research and development.
"FDA must change evidentiary standards to encourage innovation," said Coleen Klasmeier, chairwoman of the forum and global coordinator for the food, drug and medical device regulatory practice at Sidley Austin LLP in Washington, D.C.
Klasmeier and a colleague examined 300 cases of new drug and biological approvals over 10 years. They found that FDA used the traditional two-trial standard in 90 percent of cases, and the more flexible one-trial standard in just 10 percent of cases.
"There's no guarantee of consistent treatment…and it's unclear which standard the FDA is using," Klasmeier said.
"New product development and the FDA approval process are of critical importance to DIA stakeholders," said DIA Global Chief Executive Barbara L. Kunz. "We look forward to a robust discussion at the forum from a variety of perspectives."
The panel will feature Carl Peck, adjunct professor in the Department of Bioengineering and Therapeutic Sciences at the University of California, San Francisco, and chairman of NDA Partners LLC, and Frank J. Sasinowski, director at Hyman, Phelps & McNamara, P.C.
ABOUT DIA: DIA is the global connector in the life sciences product development process. Our association of more than 18,000 members builds productive relationships by bringing together regulators, innovators and influencers to exchange knowledge and collaborate in a neutral setting. DIA's network creates unparalleled opportunities for the exchange of knowledge and has the interdisciplinary experience to prepare for future developments. DIA is an independent, nonprofit organization with its global center in Washington, D.C., USA, and regional offices covering North and South America (Horsham, Pa., USA); Europe, North Africa and the Middle East (Basel, Switzerland); and Japan (Tokyo), India (Mumbai) and China (Beijing). For more information, visit http://www.diahome.org.
ABOUT DIA's 2014 50th ANNUAL MEETING: Celebrate the Past – Invent the Future is the largest multidisciplinary event that brings together a community of life sciences professionals at all levels and across all disciplines involved in the discovery, development and life cycle management of medical products. The meeting aims to foster innovation that will lead to the development of safe and effective medical products and therapies for patients. For more information, visit http://www.diahome.org/dia2014.