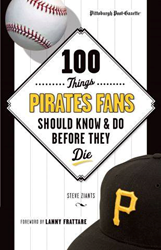 GJ Reynolds CEO of Simply G Media said, "I am huge Pittsburgh Pirates fan, Steve does a great job highlighting the history of the Pirates."
Pittsburgh, Pa (PRWEB) June 05, 2014
Simply G Media Network today announced the release of an interview with Pittsburgh Pirates Author Steve Ziants with host Neil Haley, the Total Tutor.
Neil Haley, The Total Tutor host of Author's Corner, interviewed Steve Ziants to find out about his experience writing a 100 Things Pirate Fans Should Know and Do Before They Die. During the interview they discussed key topics, such as how much research did Ziants do to write the book, how long has he covered the Pirates, and what is his prediction for this year's team.
Ziants, the Sunday sports editor of the Pittsburgh Post-Gazette, is a former baseball columnist and a Pittsburgh resident. Ziants said he was excited to see the Pirates resurgence.
"It was very special to see this team come back to prominence," Ziants said. According to Ziants, he had his work cut out for him when writing the book because the Pirates have a century of stories. Narrowing it down to 100 things was difficult, he said. One of the players covered in his book was Pirates legend and Hall of Famer Roberto Clemente. Ziants explained that he wrote about Clemente several times in the book, including his own personal remembrances, particularly the game where Clemente got his 3000th hit. Ziants was at that game.
Ziants talked about Barry Bonds, who is number 15 in the book. Ziants explains the curse of Barry Bonds and the Pittsburgh market, which is considered small compared to other Major League Baseball cities, forced him to leave. He talked openly about how smaller markets are at a big disadvantage, and how that disadvantage causes fans of small market teams, such as the Pirates, to watch their best—and favorite—players leave for more money.
The first chapter in the book, said Ziants, is about the famous Bill Mazeroski home run. Mazz said this feat was one of the greatest moments in baseball history. In the book he also addresses the 1979 team and how it had a special relationship with the city of Pittsburgh.
GJ Reynolds CEO of Simply G Media said, "I am huge Pittsburgh Pirates fan. One of my all time favorites was Willie Stargell. I even modeled my swing after "Pops". Steve does a great job highlighting the history of the Pirates."
You can listen to this interview by going to http://simplyg.com/media/simplyg-radio/.