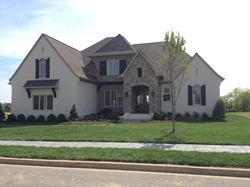 It's appealing to homeowners to know they will save money in the long run on their electricity, gas, and water bills.
Nashville, TN (PRWEB) June 04, 2014
Today's homeowners want their homes to be as sustainable and energy efficient as possible, and custom homebuilders like The Ernst Group, LLC, doing business as Arthur Rutenberg Homes, are positioning themselves to be able to offer all the eco-friendly features their customers demand.
"Building an energy-efficient home is an intuitive process that has to flow through every part of the home," said Arthur Rutenberg Homes' president Steve Ernst. "Our customers want to design their custom homes with lots of windows for natural light, heating and cooling, ENERGY STAR appliances, and even geo-thermal heating and cooling."
Steve and J.R. Ernst have been building homes around Middle Tennessee for nearly 30 years. They now run their Arthur Rutenberg Homes franchise from their Hendersonville, Tenn. office. The company is known for its luxury custom details, which appeal to affluent homebuyers, featuring lots of windows and open spaces in every floor plan, which is attractive to those who are concerned about energy efficiency.
Today, it's easier than ever to find building materials and supplies that make a home as energy efficient as possible. Windows and doors are better insulated than ever before, and can be strategically placed to maximize sunlight in the home and keep it warmer in the winter and cooler in the summer, cutting down on the use of central heat and air. Those units, too, are more efficient than ever before, running more smoothly and quietly than older models, and heating or cooling a house more evenly. The prevalence of halogen and compact fluorescent light bulbs also makes it easy to fill a home with energy-efficient lighting, helping to cut back on electricity usage. New ENERGY STAR household appliances such as ovens, refrigerators, and washers and dryers use less water, heat, and electricity to get their jobs done.
The Department of Energy has found that energy users nationwide saved about $55 billion on their utility bills. That number is expected to grow to $1.7 trillion by 2030, along with a reduction of 6.7 billion tons of greenhouse gases, thanks to energy conservation standards implemented by the Building Technologies Office. Even affluent homebuyers are interested in saving money and being more environmentally conscious.
"We see demand continuing to grow for these features in custom homes," said Ernst. "Many of our customers want to include energy-efficient appliances and fixtures throughout the home. It's appealing to homeowners to know they will save money in the long run on their electricity, gas, and water bills. We're prepared to offer the most innovative, energy-efficient building materials and supplies on the market."
To learn more about having a custom home built in the greater Nashville area, call Arthur Rutenberg Homes at (615) 822-1727 or visit http://www.arthurrutenberghomes.com/nashville.
About Arthur Rutenberg Homes
Arthur Rutenberg Homes, a respected name in homebuilding since 1953, is one of the largest independently owned and operated homebuilding companies in the nation. With a franchised homebuilder expansion in Tennessee, Arthur Rutenberg Homes builds in prestigious Nashville communities and on owner's individual lots. The Ernst Brothers have 20 years of home building experience in the area and offer plan collections that include more than 80 award-winning home designs ranging from 2,000 to 7,000 square feet. They offer customized plans to suit any lifestyle and optimize views to that special piece of property. For more information, call 615-822-1727 or visit http://www.arthurrutenberghomes.com/nashville.
For additional information, contact:
Heather Ripley
Ripley PR
hripley (at) ripleypr (dot) com
865-977-1973
###