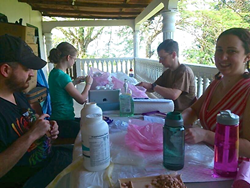 Serving other countries is refreshing because it reminds me why I went into medicine in the first place—to help patients lead healthier lives.
Williamsport, PA (PRWEB) June 03, 2014
Three physicians with Susquehanna Health's Williamsport Family Medicine Residency (WFMR) program recently extended God's healing love nearly 2,000 miles away to improve the health of communities of people living in rural Honduras.
Third year resident Dr. Andrea Benoit, second year resident Dr. Ross Bickford and WFMR Assistant Director Dr. John Boll served together for two weeks as members of a medical service team representing the residency through the MAMA Project, Inc. Headquartered in Pennsburg, PA, MAMA Project, which stands for Mujeres Amigas Miles Apart (Women Friends Miles Apart), focuses "on the educational, health and nutritional needs of Honduran children."
"The MAMA Project is very well established and has a very clear mission, which they carry out very effectively," said Dr. Benoit. This trip was her second medical visit to Honduras, her third international rotation, and she is already planning to return next year. The three doctors served abroad in February and March seeing patients and primarily giving out deworming medicines and vitamins and checking blood pressures and anemia levels. Arriving in San Pedro Sula, the group traveled to the mission location in San Francisco de Yojoa. Sunday was set aside for pulling medications in preparation for the week ahead and some local sightseeing, according to Dr. Bickford. The team also filled boxes with toys, clothes and medicines for the children and their families.
On Monday, the team and all the supplies were transported by bus to local villages about an hour's drive from the mission. Upon arrival, they set up a clinic with six different stations in a local school building. "Nurses were stationed to check hemoglobin and dispense medications and vitamins," said Dr. Bickford. "We'd see patients all day. Illnesses ranged from a common cold to Transient Ischemic Attack [or TIA, sometimes called a mini stroke]."
According to Dr. Boll, another common ailment was respiratory illness, which he explained resulted from the exhaust of stoves used inside homes for cooking. One of the more challenging diagnoses for Dr. Bickford was dengue fever, a mosquito-borne illness common to Honduras and rare in the U.S. In such situations, the U.S. doctors relied on the local knowledge of the Honduran doctors. "We definitely learned from them," said Dr. Bickford. "The Honduran doctor was great to work with." Over the course of two weeks, the team served greater than 1,000 patients.
According to Dr. Boll, the mission teams visit about 60 communities in a season and the healthcare received doesn't end at the clinic. Individuals diagnosed with severe malnutrition receive followup care at the Nutritional Rehabilitation Center and return to their community in one to three months in good health and educated on health and hygiene.
Dr. Bickford said his experience in Honduras increased his confidence as a physician. "It was nice to see a completely different set of patients, yet to realize how similar people are all over the world," he said. "This experience helped me to feel more independent in practice because I was not precepting every patient. It's often challenging to go with your gut."
For Dr. Benoit, the international rotations help her to maintain perspective as well as develop skill. "Serving other countries is refreshing because it reminds me why I went into medicine in the first place—to help patients lead healthier lives. It also really helps to hone diagnostic skills since there are no labs or imaging to rely on," she said. "It helps to keep in perspective the ease in our lives. We have so much to be thankful for, and the people living in these rural Honduran villages have so much to overcome in their lives—like walking miles each day for clean water. Yet they are so grateful for the help that we can provide."
Although WFMR does not offer a formal international track in its curriculum, serving medically in other communities and cultures is always encouraged for enriching the patient care experience. "Our residency program is very supportive of us going abroad, even allowing our families to go along with us," said Dr. Boll, whose daughter, Lora, accompanied him on the trip and helped by handing out bandaids and playing with the children in the villages. "Program Director Dr. Brad Miller is very committed to international rotations," he added.
At this time, plans are underway to expand the Honduras rotation to three separate weeks in 2015. "By returning for a third year, I really hope to be able to continue serving truly needy communities, while also providing an opportunity as an attending to share the experience with other students and residents as well as opening up more available weeks, which means a greater total number of residents are able to go," said Dr. Benoit.
Realizing Susquehanna Health's vision "to create a world-class health system," the WFMR program has encouraged and supported its residents in medical missions to Haiti, India, Tibet and West Africa.
About Susquehanna Health
Susquehanna Health is a four-hospital integrated health system including Divine Providence Hospital, Muncy Valley Hospital, Soldiers + Sailors Memorial Hospital and Williamsport Regional Medical Center located in North Central Pennsylvania. Serving patients from an 11-county region, Susquehanna Health is a healthcare leader and has been recognized at the national and state levels for quality of care. Susquehanna Health offers a wide array of services that include cancer care, heart and vascular care/heart surgery, neurosciences including neurosurgery, orthopedics, urology, OB/GYN, gastrointestinal services, behavioral health, physical rehabilitation, home care, long term care, assisted living and paramedic/ambulance services.