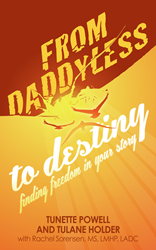 We're delving into the very hearts and souls of fatherless youth and making them think in ways they haven't had to.
Omaha, Nebraska (PRWEB) June 03, 2014
WriteLife LLC, an independent publishing company headquartered in Omaha, NE, announces the release of From Daddyless to Destiny: Finding Freedom in Your Story today, June 3, 2014.
"They'll never have a meaningful relationship." "They'll dabble with drugs and alcohol." "They'll be lucky to keep a job." These are just some of the negative, stereotypical things said about Daddyless Daughters and Sons—those millions of young women and men who grow up in homes with no father figure. Whether their fathers are jailed, deceased, addicted to drugs or just absent from their everyday lives, these women and men often deal with issues others know little about—everything from low self-esteem to unplanned pregnancies to their own drug abuse.
Tunette Powell could have been one of those statistics, growing up with a father addicted to drugs. Instead she used his weakness to discover her destiny. Tunette beat the odds, went college, and became an award-winning public speaker and a nationally-known author.
Now, Tunette, with the help of her mother and co-founder of The Truth Heals, Tulane Holder, are helping Daddyless Daughters and Sons, and the mothers who love them, beat the statistics by empowering them to rewrite their stories in order to go from Daddyless to Destiny! Exercises included in the book were developed by Rachel M. Sorensen, MS, LMHP, LADC. Powell and Holder are using the book to create a series of workshops to help people who are ready to make a change.
"There was no program or workshop like this when I was a child," says Tunette. "No one could connect my dots. No one was able to see how greatly I was affected by fatherlessness. Our workshops are doing that. They are delving into the very hearts and souls of fatherless youth and making them think in ways they haven't had to. Not only are our workshops affecting fatherless children, but also their caretakers. We have helped mend relationships between daughters and their single mothers."
Nationally-known author and public speaker, Tunette Powell has received a host of prestigious public speaking awards, including being named the top persuasive speaker in the country in 2012, as she has traveled throughout the country motivating and encouraging young men and women in schools, colleges and universities, and nonprofit organizations. A recent guest on Oprah's Lifeclasss (Daddyless Daughters), Powell has shared her message about forgiveness, healing, and recycling the human life on radio and in print interviews. Powell was a recent speaker at TEDx Omaha and is the author of From Daddyless to Destiny (WriteLife, 2014) and The Other Woman (WriteLife, 2012).
After 34 years with The Coca-Cola Company while also raising three children as a single mother, co-author Tulane Holder has acknowledged her purpose – helping to enrich the lives of people. Recognized with top talent awards and as a leader in the corporate environment, she was always inspired to encourage, motivate, coach and develop every employee she met. Now, Holder offers leadership and business development consulting to nonprofit organizations and small businesses. She also offers professional development training and courses to underserved populations.
Ultimately, Tunette and Tulane wrote this book to be a book of hope. It vividly illustrates that while the fatherless journey may be difficult, it is not impossible. Their wish for people reading the book is that they walk away with hope and a hunger for healing.
From Daddyless to Destiny: Finding Freedom in your Story, is available on http://www.writelife.com as well as other major online booksellers. Coming soon in eBook Kindle, Nook and Kobo formats.
About WriteLife, LLC
WriteLife, LLC is an independent publisher of trade fiction and nonfiction based in Omaha, Nebraska.
Learn more at http://www.writelife.com/.
Buy WriteLife Books Online - http://writelife.pinnaclecart.com/index.php?p=home.
WriteLife on Twitter - https://twitter.com/WriteLifeLLC
WriteLife on Facebook - https://www.facebook.com/WriteLife?ref=hl