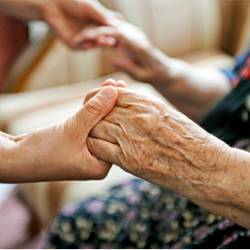 "As we grow older, we must discipline ourselves to continue expanding, broadening, learning, keeping our minds active and open." - Clint Eastwood
Arvada, CO (PRWEB) June 06, 2014
As family members age, falls are bound to happen. However, there are so many small, easy things to do around the house to help minimize the risk that elderly family members will fall. From their experience providing home health services for the elderly, All About You Homecare has developed a few tips for preventing falls, which in turn helps with preventing traumatic brain injuries. AAYH believes the following actions can make a huge impact in not only seniors' lives, but for the community as a whole. Having happy, healthy seniors is essential for a flourishing community.
-Add brighter lighting and reduce glare by using lampshades and frosted bulbs.
-Remove small throw rugs or use double-sided tape to keep the rugs from slipping.
-Be sure there are handrails and lights on all staircases.
-Place items used often within easy reach, so that a step stool is not needed
-Be sure older adults wears shoes that give good support and have thin, non-slip soles. They should avoid wearing slippers and socks and going shoeless.
-Place non-stick mats in the bathtub and on shower floors.
-Install grab bars next to the toilet and in the tub or shower.
Along with these actions around the house, seniors should partake in daily exercise. Staying active will keep elder adults more alert and will help speed recovery if any falls do occur. As always, All About You Homecare encourages its clients to visit their physician regularly and review medications and possible side effects. Seeing the eye doctor is also important, as this will help eliminate the chance of falls caused by vision impairment.
Falls are the most common cause of traumatic brain injuries (TBI) according to the Journal of Trauma, in 2001, so fall prevention can have a major impact on seniors' wellbeing. For additional tips and facts regarding Older Adult Falls please visit the CDC website.
About All About You Homecare
All About You Homecare is a family-owned business that provides home health care services in the Denver area. All About You Homecare provides companionship, transportation, meal preparation, and other unique services tailored to meet your family member's unique needs. AAYH's caregivers build meaningful relationships with clients, based on the values of friendship and kindness. Clients, as well as their families, are the top priority for All About You Homecare. For more information, visit http://www.allaboutyouhomecare.com.