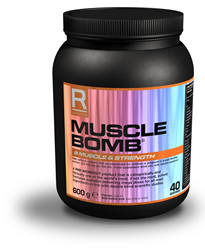 rewrite your expectations
(PRWEB UK) 5 June 2014
Muscle Bomb® pre workout contains a potent complex of ingredients each of which have been extensively studied with regard to workout performance. Made in the U.K in accordance with ISO9001 procedures at the Reflex Science Park the new product is also one of the first pre workout supplements to be free from artificial sweeteners, it's refreshing flavour is sweetened naturally with Stevia.
James Phillips, Managing Director, explains, "We've seen numerous pre workout supplements come out over the last year or so. Very few deliver the dosages of ingredients needed to match those established by research.
"Muscle Bomb® is our newest pre workout product that delivers real dosages replicating doses found in real scientific studies. And that's exactly what you want from a product if you want serious results. We must emphasise the fact that Muscle Bomb® does not hide behind the normal a veil of creatine or huge dose of stimulants. Whilst we do offer a caffeine based version we also offer a caffeine free variety proving that pre workout supplements can deliver serious results without stimulants. We are not sure many brands would stick their neck on the line with that regard, but we do!"
Muscle Bomb® contains 15 ingredients, of which 7 are absolutely key, which are specifically chosen for their role in the best pre workout performance, available with and without Caffeine. All doses used are at the minimum used in double blind scientific studies, Reflex Nutrition strongly encourage customers to look them up or follow the links on their Muscle Bomb website page. Each of the studies relating to each of the 7 key ingredients are also listed so that customers can see first-hand that the doses used in real studies matches those found in Muscle Bomb. Reflex Nutrition are keen to point out that this has a profound difference to a pre workout formula.
The specification is as follows per 2 scoops:
8,000mg Citrulline Malate
7,000mg iBCAA
3,200mg Beta Alanine
2,500mg Betaine Anhydrous
2,000mg L-Carnitine Tartrate
1,000mg Taurine
250mg Caffeine
Muscle Bomb® is available now in a variety of different flavours with the addition of non-caffeinated varieties. All variants are free from artificial sweeteners. See http://www.reflex-nutrition.com for more information.