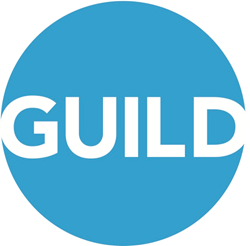 I look back and am hard-pressed to think of a noteworthy millennial social brand that we have yet to represent. It's incredibly humbling, but there is still so much work to be done.
New York, NY (PRWEB) June 04, 2014
The Guild Agency, the world's fastest-growing speakers bureau, literary agency, social-impact consultancy and smart-content media firm, today announces its latest client news, as well as milestones for the company, including recent investor funding and the acquisition of an all-female speaker's bureau.
This month, the New York-based agency marks three years of business, during which it has represented more than 100 clients and carried out over 500 events throughout North and South America, Europe and Asia.
Topping this month's news, the company signed charity: water Founder Scott Harrison, whose organization is the second largest water non-profit in the world and the largest in the U.S., and has raised $125 million for global clean water projects. In addition, The Guild Agency is now representing "MacGyver" Creator Lee Zlotoff, whose "MacGyver Method" business teachings are globally popular and who has already been lecturing at universities in the U.S. and corporations throughout Europe.
Additionally, the agency's core roster, which includes TOMS founder Blake Mycoskie, renowned actress and activist Patricia Arquette, and ESPN founder Bill Rasmussen, has been influencing audiences around the topics of innovation, leadership and social enterprise, all with an eye toward social change. Sponsors for these events are wide-ranging, from General Mills, Ford and Rackspace to Salesforce, Intel and the World Business Forum, along with hundreds of universities, non-profits and startups.
"It's incredible when I realize that it's been just three years since we began. Starting with cold calling the list of businesses in "Crain's Top 40 Under 40," to now having represented many of the most sought-after social entrepreneurs and thought-provoking practitioners of our generation. I'm so proud of the footprint we've made, with a company concept that is still one of a kind to this day," said The Guild Agency Founder and CEO James Marshall Reilly.
"People thought we were crazy when we started. Whether it has been working with ESPN Founder Bill Rasmussen, completing book deals with Rodale for FEED Co-Founder Ellen Gustafson, or working with leaders of organizations like TOMS, NIKE, Pencils of Promise, charity: water, Invisible Children and so many others, I look back and am hard-pressed to think of a noteworthy millennial social brand that we have yet to represent. It's incredibly humbling, but there is still so much work to be done."
An entrepreneur, author and public speaker, Reilly founded The Guild Agency in 2011 after the launch of his book, "Shake the World" (Penguin), which focused on the millennial job market in the middle of the financial collapse and featured interviews with Zappos.com CEO Tony Hsieh, Napster founder Shawn Fanning, and LIVESTRONG CEO Doug Ulman. It was then that Reilly aspired to take the ideas from his book to the next level, and The Guild Agency was born with one simple goal: to become the go-to, next-generation talent agency focused on changing the world.
For his work with the millennial generation since then, Reilly has been coined "The Maestro of the Millennial Movement." Reilly was honored at the White House as one of the Top 100 entrepreneurs in the U.S. age 30 or under and was included in the prestigious Empact Showcase at the United Nations as one of the top companies in the U.S. run by entrepreneurs under 35.
As the agency increases its client base, the need for company growth correlates directly. Former financial advisor and advocate of the "encore career movement," Ron Cordes sits on the board of directors for The Guild Agency and acts as a mentor to Reilly. Along with Cordes, Impact Republic's Bob Caruso has helped The Guild Agency raise substantial funding in recent months, which is helping to launch the company into a 2.0 phase. This push will focus on more placements of content media and continued representation of higher caliber names, like Mycoskie, Harrison, former chief speechwriter for President Clinton Heather Hurlburt, and Zlotoff.
"Our team will be working strategically with Ron's network to loop-in some fantastic new talent in the near future," Reilly states. "The three of us (Reilly, Caruso and Cordes) have a triangle-like dynamic where the two of them are in the impact/finance realm and I'm in the impact/talent realm; all of this overlaps to form this hybrid that no one has really done before. The changing media landscape has served our intent well, and by being at the forefront of the millennial movement, actually identifying with what today's generation is interested in, we can be proactive instead of reactive with our work. I have no doubt that great things are right down the road for our agency and clients."
Coinciding with recent growth strategies, the latest development for The Guild Agency is its acquisition of Minerva: Outstanding Women Speak, the North American source for women who lead, motivate and entertain. The Guild Agency and Minerva will partner to create a tool for organizers and planners to be exposed to this largely untapped resource of female speakers.
"There is a 4-to-1 ratio of male to female speakers in the industry right now, which we believe is an unnerving statistic," said Reilly. "Our hope is to showcase these extremely talented, intellectual speakers to event organizers who many not have otherwise known they were an option for speaking engagements and events. This acquisition is one of the many strategic moves that our agency is working on and is a prime example of our counterintuitive vision, as well as our pursuit to connect people and ideas in unconventional ways, which has always been our main focus."
The Guild Agency considers its clients "practitioners," rather than "motivational speakers." It aims to represent individuals who are doing such a great deal of positive work during their day job that audiences around the world desire to hear what those same individuals have to say at night, with real stories and expert background to back it.
"By constantly expanding and nourishing our robust and brilliant network of global-thought leaders, we are able to help facilitate events and publishing agreements as they relate to the dissemination of intellectual and social capital," said Reilly. "We feel so honored to be at the epicenter of some of the biggest movements and social change initiatives taking place today, and to remove the ego from it and focus on what matters - education, fighting for causes of merit, introducing audiences to new concepts and opportunities, etc. These movements are why we sprint to the office in the morning. This is not a transactional talent agency; this is a family trying to change the world."
For more information on The Guild Agency, please visit: http://www.theguildagency.com
About The Guild Agency
The Guild Agency is a full-service, international Speakers Bureau, Literary Agency, Social Impact Consultancy, and Smart-Content Media Firm with headquarters in New York City. Founded in 2011 by author, entrepreneur and public speaker James Marshall Reilly, the company was created to be a next generation talent agency focused on changing the world by filtrating the ideas of the most talented scholars, business leaders, social entrepreneurs, philanthropists, tech innovators, diversity experts, authors, and entertainers working today.
The Guild Agency is a value-driven company, engaged in the dissemination and proliferation of cutting-edge ideas and stories. Representing minds such as ESPN's Bill Rasmussen and social entrepreneur Blake Mycoskie, The Guild Agency has grown from a two-person startup to booking over 500 events, spanning four continents, in just three years, along with multiple major publishing deals and international consulting engagements.
For more information on the Guild Agency, please visit: http://www.theguildagency.com