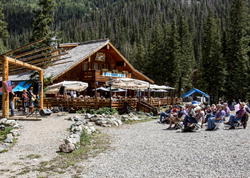 We're excited to introduce our high altitude summer entertainment, dining and lodging specials and can't wait to meet and entertain some new friends. - Jamie Schulze, Co-owner
Taos Ski Valley, NM (PRWEB) June 10, 2014
The Bavarian Lodge and Restaurant is perfectly located facing Kachina Peak at the gateway to the Wheeler Peak wilderness in the Southern Rocky Mountains. It has become the home base for those seeking outdoor summer adventures at the Taos Ski Valley. Hikers, bikers, horseback riders, photographers, wildlife viewers and those who just want a respite from city life can enjoy the clean fresh cool air, relaxing sun deck views, award winning food, drink and lodging that the Bavarian offers.
Taos Ski Valley is currently undergoing many exciting changes since billionaire Louis Bacon recently became the new owner. In addition to adding a new ski lift at the top of Kachina Peak, many outdoor fun and adventure activities are being added which are sure to make this the premier location as a summer paradise in Northern New Mexico.
Join The Bavarian for an open house and launch party for the Edible Santa Fe magazine Taos summer adventure celebration on Saturday June 14th from 3:00 pm to 6:00 pm. It's free to attend and guests can try their luck at winning a share of over $2,500 in raffle prizes sponsored by local merchants.
The Bavarian is also offering food specials for the Edible event which include a sample platter of German cuisine for only $15.00. Overnight guests can take advantage of the luxurious lodging complete with a chef's special breakfast and dinner for only $150.00 plus tax per night double occupancy.
The Bavarian will be the place to be on June 28 when the Taos Ski Valley will hold a grand opening celebration for Pioneer's Bike Park, a collection of biking trails that will offer lift-accessed novice mountain biking. Also launching will be the Berminator, a 3.6-mile, intermediate mountain biking track beginning at the top of Lift 1.
Something new this summer season at The Bavarian is the Sustainable Sunday Dinner Series which kicks off July 13th with host Lady Bug Farms. These special farm to table dinners exclusively feature locally produced products. You'll be introduced to some fresh and healthy dishes and get to meet and greet the growers and farmers who will be on hand during the dinners to discuss their innovative creations. These events are very popular with limited seating and offered by reservation only so be sure to get in early.
Don't miss The Bavarian's exclusive Labor Day Mid Mountain music festival from August 29 to mid-morning September 1 featuring 25 New Mexico bands. This is a great laid back event with food, drink, fun and meeting new friends. Look for more details on http://www.thebavarian.com website.
You'll find Bavarian hospitality at its warmest in their award winning restaurant, where a wait staff clad in lederhosen and dirndls dispenses German specialties in an ambience of pure Gemütlichkeit at the trailhead to William's Lake or the bottom of the Taos Ski Valley lift #4. Wooden beams and log construction underscore the lodge atmosphere, while an authentic Kachelofen, a Bavarian tile stove, envelops the room with its gentle warmth.
The gourmet menu features refined German dishes that are hearty but never heavy, a perfect way to enjoy a midday respite or replenish your strength after an active day of biking or on the hiking trails. Choose among such offerings as Sauerbraten, Wienerschnitzel, or Käsespätzle, accompanied by a selection from the fine wine list or one of the specially imported beers from the Spaten Brewery in Munich.
Overnight guests will discover authentic Bavarian antiques and objects d'art throughout the lodge with its distinctive alpine ambience. Exquisite carved and painted detailing by Swiss artist Reto Messmer and local artist Kristin Bortles adds dimension and interest, creating an atmosphere that's both cozy and luxurious. Whether you're looking for a romantic getaway or a fun-filled family adventure, the well-appointed suites provide all the amenities you'll need for your stay at Taos Ski Valley.
About The Bavarian
The Bavarian Lodge and Restaurant, co-owned and operated by the husband and wife team of Thomas and Jamie Schulze, is located about 30 minutes high above the historic, multicultural town of Taos, New Mexico. Founded in 1996, The Bavarian offers exclusive high alpine lodging at the top of the valley facing Kachina Peak and authentic German food surrounded by pristine wilderness. In summer, a visitor to The Bavarian can enjoy many outdoor adventures including nature hikes among wildflowers and alpine lakes, great trout fishing, mountain biking and rock climbing. Follow The Bavarian on Facebook at http://www.facebook.com/bavariantaos.
About Taos Ski Valley
Taos Ski Valley lies within the Kit Carson National Forest and is known for extremely dry powder, some of the world's finest lift-accessible steeps, average snowfalls in excess of 300+ inches per season with 300+ days of annual sunshine in the Southern Rockies. The skiing is consistently ranked amongst the nation's top resorts with new summer activities and adventures for the whole family.
go non-stop.