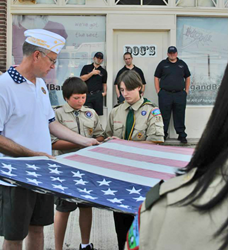 Little Rock, AR (PRWEB) June 03, 2014
Arkansas' FlagandBanner.com in cooperation with the American Legion of Arkansas, local area Girl Scouts and Boy Scouts and the Smithsonian National Museum will hold a very special Flag Day Celebration on Saturday, June 14, 2014 from 2:00 p.m. to 4:00 p.m. The event, which will be held at the Flag and Banner offices located at 800 West 9th Street in downtown Little Rock, is free and open to the public.
During the event, Scouts will hold a dignified flag disposal ceremony to respectfully dispose of unusable U.S. Flags. Attendees are encouraged to bring their tattered and faded flags in for retirement and will receive a coupon for $5 off the purchase of a new flag.
The celebration is also an official party site of the Smithsonian National Museum's nationwide "Raise It Up" event celebrating the 200th anniversary of The Star Spangled Banner. All guests are encouraged to sign up to sing at 3:00 p.m. The sing-a-long will be coordinated to happen at the same time with all the other locations across the nation - including Ft. McHenry where the song was written. This sing-a-long is part of an attempt to break the Guinness Book of World Records "the most people to sing a national anthem at one time." A National Guard Color Guard will present the colors during the sing-a-long.
Little Rock radio personality Bob Robbins from 105.1FM The Wolf will be on hand giving out prizes and guests can sign up to win a flagpole kit with flag from Arkansas' FlagandBanner.com. There will be free popcorn and drinks plus free games, face painting and activities for the kids at this family friendly event. Vendors selling burgers, barbecue, catfish and ice cream will also be available for food and refreshments.
For more information e-mail tammie(at)flagandbanner(dot)com or call: (501) 375-7633 ext. 117.