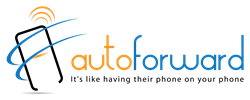 Coram, NY 4th June, 2014 (PRWEB) June 05, 2014
Auto Forward, a New York based technology company, is making a strong impact with their just released iPhone spy software application. This highly advanced remote mobile monitoring program has already caught the attention of people looking for a user friendly technology that helps them secretly monitor any target mobile device from a remote location. With Auto Forward, users can effortlessly monitor all activities of the target device including text messages, phone calls, internet browsing history, emails, social media activity, and much more. Auto Forward can also be used for call recording and tracking the location of the target phone.
In today's changing social scenario, people often face unfortunate events where they badly need a viable technology that can monitor the phone related activities of some other person. Modern day parents and business owners frequently use iPhone spy programs to keep an eye on their children and unproductive employees. Applications like Auto Forward can also be used for many other purposes that require users to track the activities of someone else.
Auto Forward is already being tipped by many industry experts to be the best in the market because of its excellent features and user friendly nature. Auto Forward users can start enjoying its benefits simply by entering the phone number that they want to monitor in their own mobile phone or tablet. No computer is required for the installation of the program. Functionally speaking, Auto Forward is a Master Mobile App that can efficiently extract all types of necessary information from the target phone and upload them in a secure server.
There are many iPhone spy software applications in the market. However, with stunning features, Auto Forward is already looking good to leave all of them behind. One of the many delighted users of the product strongly recommends Auto Forward saying, "I have tried out some other spying programs in the past without much satisfaction. Auto Forward is an exceptional product that makes remote cell phone monitoring easy, safe, and affordable. This is the one for you, no matter what your requirements are."
With a one-time fee of $69.99 only, Auto Forward is also one of the most affordable mobile phone monitoring programs in the market. To bring an end to all cell phone tracking related concerns, please sign up for Auto Forward at http://auto-forward.com/iphonespyapp.html.
About Auto Forward: Auto Forward is a recently developed technology that allows users to remotely monitor the usage pattern of target cell phones from their cell phone, computer, or tablet. Auto Forward can be used on the go because it functions as an application. Users of this technology can access lost and old messages, phone calls, GPS, Twitter, Facebook, and much more.
MEDIA CONTACT
Patrick
Coram, NY, 11727
888-254-7957
info(at)auto-forward(dot)com
http://www.auto-forward.com/