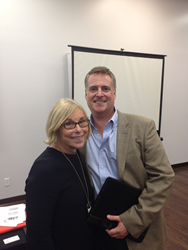 "If we work on the family's behaviors, specifically the co-dependency, you will have a more powerful intervention and a more lasting change as a result," said Jeffrey J. Merrick.
Los Angeles, CA (PRWEB) June 04, 2014
Jeff has helped to create a holistic approach to intervention by partnering with Dr. Louise Stanger, the court, with probation, with other professionals, treatment providers, court services, and today's treatment center. He discusses how he is able to bring into collaboration with a client, all these moving parts and establish a solution that is not just one-sided. While his client is in treatment, the family has their own recovery and as they are able to have some space from the problem, they naturally become attached to the solution. To read Jeff's interview with New Life House Blog writer, Martha Lockie, click here.
The solution is something Jeff speaks about repeatedly. He believes that where intervention is concerned, it is of maximum importance that the addict is given the solution in the form of treatment, but that they also understand the problem and that they understand that the people who love them are no longer willing to be manipulated.
Since 1985 the New Life House recovery community has been helping families help their sons in the battle against drug and alcohol addiction. Their community-focused method is what has kept them at the center of the recovery world for almost thirty years. New Life House http://newlifehouse.com has extended their community with the launch of their New Blog Into the Heart of Addiction.http://newlifehouse.com/into-the-heart-of-addiction/ Here they offer hope and support for everyone who loves a young person struggling with substance abuse.