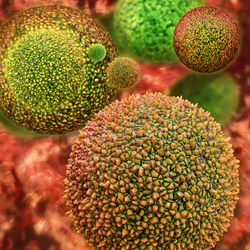 I credit the air filter completely for the improvement in our indoor air quality.
Spokane, WA (PRWEB) June 05, 2014
For those who suffer from allergy symptoms, the severity and frequency can be hard to predict. The length of allergy flare can vary based on a number of different factors, such as the amount of precipitation, temperature and geographic location.
While many of the triggers of allergy symptoms originate outside, they quickly make their way in the home through an open window, on the fur of the family pet and by clinging to anyone who enters the house. Worse yet, some allergens build up naturally in the home and cause symptoms throughout the year.
Two members of the Cunningham family in Spokane, WA have dealt allergy symptoms their entire lives, and keeping their suffering at bay was a challenge. To improve her allergy symptoms and those of her son, Mrs. Cunningham purchased the Aprilaire Model 5000 air purifier.
"All my life, I've woken up every morning with congestion in my throat, I no longer have that," Mrs. Cunningham said. "It only took two or three days to notice the symptoms were gone - this thing is amazing! We joke now, because when we start sneezing, we know it's time to get a new filter."
With warm weather arriving, sufferers of allergy symptoms are likely dreading a return or worsening of their agony. Many people may even be unaware how their allergy symptoms are truly affecting them. Other conditions not always thought of allergy symptoms, such as chronic dry eye or itchy skin, may occur year-round in response to dust mites and other indoor allergens.
Ensuring that the air is free of the majority of pollen, spores, grass, dust mites and other triggers of allergy symptoms is an overlooked way to mitigate symptoms inside the house. Like Mrs. Cunningham, anyone can enjoy a home that is more comfortable.
"I credit the air filter completely for the improvement in our indoor air quality," she said. "The air constantly moves, keeping it clean and fresh, not to mention the fact that it just makes the whole house feel comfortable. I'm so glad I did this and if I ever have to buy a new house, you can bet I will buy another air purifier!"
For more information on whole-home air purification and improving indoor air quality to reduce allergy symptoms, visit http://www.aprilaire.com. Also, find Aprilaire on Facebook at Facebook.com/Aprilaire.
About Aprilaire:
Aprilaire has been a brand leader in indoor air quality for more than 60 years, delivering a wide range of whole-home systems that improve comfort, health and energy efficiency. Aprilaire brand products are sold through and installed by HVAC contractors across the United States and Canada. Visit Aprilaire.com to learn more about whole-home air cleaners and total comfort solutions to air purity, humidity, freshness and temperature.