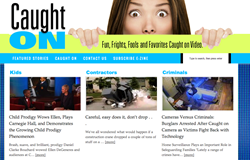 "Smarter surveillance systems, such as iWatchLife, that potentially warn homeowners of the danger as it's happening, can make the difference in safeguarding a family." Maureen Campbell, iWatchLife
(PRWEB) June 03, 2014
The pervasive role of the camera in modern society—from smartphone video cameras to home video monitoring—bring more and more opportunities for people to see these uncommon glimpses of the extraordinary.
"Firenadoes, Tornadoes, Monster Lightning Strikes, Record Blizzards: Extremes of Weather Caught on Video Indicate More to Come for 2014?"
After an unusually long, cold and windy winter, followed almost immediately by warnings of a "super" El Nino, 2014 appears to be shaping up to be a year of weather extremes. "Nations around the world have started conducting respective preparations in anticipation of a strong El Nino weather occurrence this 2014," reported the International Business Times. (1) In some areas, this will bring heat and drought.
Other extreme weather events, such as firenadoes, previously never caught on film, are now becoming easy to find online. Such awesome displays of nature are no longer the stuff of legend—we can actually watch them on video.
"Cameras Versus Criminals: Burglars Arrested After Caught on Camera as Victims Fight Back with Technology"
Home owners are increasingly turning to home surveillance to help in the fight against crime. Caught On profiles several videos extracted from home video surveillance, revealing criminals caught in the act. Most of these suspects were apprehended.
"Cameras can help make the difference in apprehending suspects," said Maureen Campbell, Director of Marketing and Communications at iWatchLife, a home monitoring service. "Prominently mounted cameras can discourage a thief, and the video certainly helps police when thieves do break in. Smarter surveillance systems, such as iWatchLife, that potentially warn homeowners of the danger as it's happening, can make the difference in safeguarding a family."
"Good Samaritans Caught on Camera: Helping the Homeless and the Homeless Helping Others. What Would You Do?"
Inspirational video footage of Good Samaritans is plentiful online, thanks to the increasing use of video for surveillance. In one extraordinary video, a homeless man rescues a police officer (see below). Supportive comments on these hero videos reinforce society's approval of the Good Samaritan. But just how many of us would help out a homeless man? Or put our lives at risk to save another?
The answer is about 40 per cent, according to a famous Good Samaritan study by J.M. Darley and C.D. Batson. (1) "Overall 40 per cent offered some help to the victim. In low-hurry situations, 63 per cent helped, medium hurry 45 per cent and high hurry 10 per cent," wrote the study authors. "There was no correlation between religious types and helping behavior."
Watch videos on real-life Good Samaritans>>
About Caught On!
Caught on video! Caught On showcases those special, fun, scary, candid, freaky moments captured by home and business security cameras, street cameras, surveillance videos or smartphones.
Pervasive cameras have changed our world. We are more secure today, because of them. We also capture more of life's treasured moments thanks to cameras everywhere. Our phones have cameras. Street corners, stores, businesses and subways all have them. Increasingly, more and more homes have them—and not just at the door for security, but throughout the house.