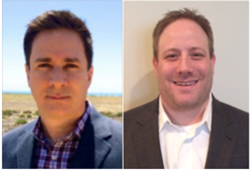 Choice Ticketing represents 23+ years of knowledge that is not easily acquired.
Boulder, CO (PRWEB) June 04, 2014
Choice Ticketing Systems announced today the new executive marketing and sales team of BRIAN ROBERTS, Senior Vice-President of Corporate Development and Strategy and CORY ENTNER, Vice President of Sales and Marketing.
Before joining ChoiceCRM, Brian Roberts held senior roles at Vendini, Paciolan and Tickets.com. His leadership in corporate strategy, marketing, client acquisition and product development will provide key direction for Choice to rapidly grow additional market share.
Mr. Roberts states, "The career decision to join Choice Ticketing required due diligence and a careful assessment of several ticketing software providers. With my own 17 years of direct ticketing industry experience, I quickly realized Choice Ticketing is still the market leader. Choice Ticketing represents 23+ years of knowledge that is not easily acquired. To their credit, Choice made the hard decision to suspend sales for two years while migrating existing clients to ChoiceCRM, refining the new flagship product. This process will pay deep dividends as Mr. Entner and I re-engage Choice with the market."
Choice CEO Robert Sandford notes, "Nick Crothers, COO and myself were seeking someone with both a broad and deep knowledge of the demands of Live Entertainment software. Brian fits that role perfectly."
Brian best summarized the decision to move to Choice Ticketing saying, "Technology sharp executives know the need to optimize revenue through intelligent approaches, to engage their patrons and donors. Choice clearly delivers with integrated platforms where others don't."
Cory Entner brings 16 years of sales solutions and business development to drive Choice Ticketing's sales operations. Cory's customer oriented philosophy is the key to his proven sales growth. Mr. Entner is known for executing go-to-market strategies, enhancing sales enablement, expanding marketplace opportunities, and most importantly optimizing 'the customer as a partner' sales experience.
Choice COO Nick Crothers says, "Cory is a seasoned leader in the Live Entertainment Ticketing market and comes to Choice with a successful track record in developing new business opportunities that result in strong revenue growth."
Mr. Entner notes, "ChoiceCRM clients enjoy a fully integrated world class CRM Enterprise Solution that manages everything from Ticketing, Development/Fundraising, Email Marketing to Merchandise, Volunteers and Reporting at a true value proposition price point. I am excited about joining a company that understands and delivers outstanding service and solutions to the Performing Arts, Sports and Live Entertainment markets."
In bringing Mr. Roberts and Mr. Entner on board, Mr. Sandford states, "We started with the intent to hire one person. It became obvious their abilities compliment each other so completely that truly a team was the best approach to take ChoiceCRM forward."
Choice competes with Ticketmaster, Eventbrite, Vendini, Audienceview, Paciolan, Tickets.com and Tessitura in the various ticketing verticals. Mr. Roberts is based in the west coast office and Mr. Entner in the east coast office of Choice Ticketing.
ABOUT CHOICE TICKETING SYSTEMS: Choice Ticketing Systems, founded in 1990, is the result of 23+ years of listening and learning from customers to deliver the best in class industry software. The flagship product, ChoiceCRM is a cloud based, easy to use solution that integrates a flexible Shopping Cart, Ticketing, Internet Ticketing, Print @ Home Ticketing, Access Control, and Development modules for Fundraising & Membership into one seamless application. Intuitive with an in-depth approach to Accounting and Management Tools, ChoiceCRM operates in real-time using an enterprise CRM to track all patron specific personal activity and financial transactions.
Contact For Further Information:
Nick Crothers
1200 28th Street, Suite 305
Boulder, CO 80303
303-402-0400