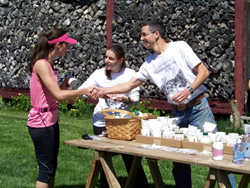 I am very proud to carry on what has been a family tradition of community service
Bow, NH (PRWEB) June 05, 2014
One part of the Grappone mission statement is to build lifelong relationships with our team members, guests and community by serving with integrity, kindness and respect. The annual Grappone Cares Contest is set to start Monday, June 9th. The Grappone Cares Contest is just one of the many ways in which Grappone builds strong relationships within its community.
The Grappone Cares Contest is a Facebook Contest that enables non-profit organizations to be nominated, and voted upon on a by our Facebook Fans for the chance to win $5,000 through the Toyota Match Program. This Contest will consist of 4 rounds. In order to be as diverse as possible; this year we have broken up our contest into 3 themes which our nominations will be centered around; Families and Children in Need, Animals in Need, and Environmentally Focused Organizations. Each round will host a different theme. The fourth round of this years contest will feature a "Grappone Pick" in which our team will select the winner.
In previous years, through the Grappone Cares Contest; Grappone has donated to an assortment of non-profits such as Sullivan County Humane Society, Live and Let Live Farm, Granite State Dog Recovery, Becky's Gift, and Sock Homelessness. Grappone Automotive Group takes pride in giving back and is honored to be an active member of their community. Moving forward one step at a time, the Grappone Automotive Group will continue to do whatever it takes to remain such a recognized member of their surrounding community. Giving back speaks louder than many words. This is one of the reasons why the Grappone Automotive Group is so adamant about being a valued and integral part of their community.
Grappone Automotive Group is a family-owned business, located in Bow, New Hampshire. Their flagship Toyota store recently received its 20th president's award. Part of Grappone's five-year vision is to increase its philanthropic giving and volunteer efforts. "We are grateful to have such a great partner in Toyota, who also recognizes the value in giving back to the community" said Amanda Grappone Osmer, 4th generation owner.