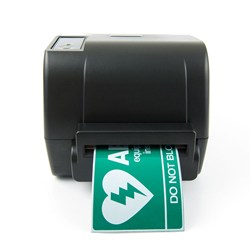 "We are 100% satisfied with the LabelTac 4+ printer! It produces top quality labels and is cost effective."
Lake Oswego, OR (PRWEB) June 05, 2014
Most companies are looking for ways to reduce capital costs these days and when the competition is huge, the need to have the best equipment to run a successful business can be overwhelming. Creative Safety Supply is making it easier for facilities with medium to high volume labeling needs on a budget by offering the LabelTac 4+ printer as another option for printing indoor and outdoor labels and signs.
The LabelTac 4+ combines the high-quality prints and ribbon capacity of the LabelTac 4 PRO with the smaller footprint of the LabelTac 4. No more wasted time trying to sort through thousands of pre-made labels to find the one that is needed. Controlling your own printing and creating the labels specifically for the needs of the business are not only time saving but cost effective. Labels can be created by using an existing PC and software. Just print them when they are required whether it is one or one hundred, the LabelTac 4+ can handle it.
Making label designs is easier than ever with the LabelTac 4+ printer. Simply design the label on-screen to specifications, and print! The design will show on the screen as the way it will show on the label. If the design is satisfactory, it can be saved on the template on the hard drive for later use. LabelTac labels cost a fraction of what it costs to purchase pre-printed labels, or to print labels from old or outdated labeling systems. On the average, LabelTac printers and labels can save between 50-80% on labeling costs versus using other methods.
Everything is included with the LabelTac 4+ printer system to get one started making labels immediately. Features with the LabelTac 4+ printer includes easy connection to any PC via USB 2.0 or Ethernet, 300 DPI print resolution, ability to create 1/2 inch to 4 inch tall indoor or outdoor labels and signs, lifetime full warranty, and Creative Safety Supply's unlimited free lifetime support. As one customer commented, "We are 100% satisfied with the LabelTac 4+ printer! It produces top quality labels and is cost effective."
For more information about the LabelTac 4+ industrial labeling system, please visit Creative Safety Supply by calling a professional representative at (866)777-1360 who will be able to answer all your questions.