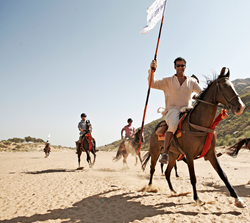 (PRWEB) June 04, 2014
RRI's trips take participants to remote locations on horseback, providing a unique combination of thrilling adventure with the satisfaction of making a direct, profound difference in the lives of those they visit.
Over the past decade, RRI has organized 20 amazing rides to various remote parts of India where residents struggle with lack of basic provisions, such as education and adequate medical care. Riders have the opportunity to participate in direct, hands-on assistance to the local communities through such initiatives as dental clinics, livestock programs, pediatric care and more - all the while, traversing breathtaking landscapes and experiencing unparalleled adventure. Since 2004, the organisation has made a difference in the lives of over 18,700 children, and over 20,000 people in total.
In addition to this incredible milestone, RRI has also officially rolled out a number of new trips for the upcoming season. The Pushkar Relief Ride, which is scheduled to take place from October 23rd through November 7th, 2014 will begin at the 600 year old fort at Hirasar and take participants on an unforgettable journey through a rural desert landscape all the way to the worlds largest horse and camel fair in the sacred village of Pushkar, Rajasthan.
The second trip is the Nagaur Relief Ride, which brings riders on an amazing trek from the ancient fort in Pokhran to the historic Nagaur Fort. This adventure is rich with history and offers participants the opportunity to travel through remote, stunning landscapes that have been inhabited for centuries by ancient tribes. The journey will also incorporate important humanitarian efforts that will deliver much-needed relief to the area's current residents. The dates for the Nagaur trip are February 19th through March 4th , 2015.
Relief Rides are limited to small groups of no more than 12 riders and they book up quickly so immediate reservations are strongly recommended. For more information about RRI, or to reserve your spot on one of their upcoming rides.