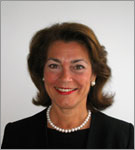 It is critical that compensation plan structures and incentives are aligned with each family's values and philosophies...
(PRWEB) June 04, 2014
Linda C. Mack, founder and president of Chicago-based Mack International, the premier retained executive search and strategic family office/human capital management consulting firm, will moderate a key panel discussion during the Financial Advisor Associates' Sustainable Family Office Operations & Management Conference, June 5-6 at The Princeton Club in New York.
Family office members and their executives will attend this exclusive event for two days of peer-to-peer learning and networking. The conference faculty -- a blend of family members, their family office executives and consultants -- will provide in-depth sessions on some of the most vexing operational and management issues challenging single-family offices today. Participants should anticipate a lively yet thoughtful discussion of best practices and actionable ideas.
On June 5, Linda Mack will moderate a panel titled, "The Search for Talent: Compensation and Retention Strategies." Panelists will include Patricia Hale Botoff, Director, Compensation and Benefits Consulting, Grant Thornton, Matthew Hodgen, Chief Executive Officer, Macian Wealth Management and Douglas E. Bryant, Chief Financial Officer, Leonard Enterprises, Inc.
According to Mack, attendees should expect an in-depth discussion of trends and best practices, but not one-size-fits-all solutions. "It's interesting that while so many different family offices report similar challenges, it remains true that when you've seen one family office, you've seen (just) one family office. Each family/family office is unique and needs to determine and apply the solution that will best enable them to achieve their objectives. There is not one, specific blueprint solution that will necessarily work the same for any two families," Mack said.
"One key trend the panel will discuss is how an increasingly competitive market and increased access to information is requiring family offices to keep pace in the compensation arena," Mack said. "We are observing an increasing use of long-term incentive compensation vehicles to maximize both performance and retention, as well as a variety of more sophisticated arrangements, better definition of compensation plans, non-cash compensation, benefits, and more," Mack added.
The panel will also share perspectives on how families evaluate what will successfully drive performance and retain key talent while enabling the family to meet its objectives, and, the importance of recognizing the value of selecting the right person and being willing to invest in talent for overall success.
"It is critical that compensation plan structures and incentives are aligned with each family's values and philosophies to drive the desired behaviors and achieve optimum results," Mack said. "Performance expectations and metrics to measure success must be clearly defined and customized to specific family objectives."
The Financial Advisor Associates (http://www.frallc.com) conference will also feature topics such as creating business continuity plans, successful succession planning, managing change via clear transition policies and procedures, and risk management issues.
About Mack International LLC
Mack International, LLC, headquartered in Chicago, is a global retained executive search and strategic management/human capital consulting firm serving clients in the family office, family business enterprise and the wealth management industries. Linda C. Mack develops close consultative partnerships with clients and candidates, and has achieved an exceptional track record of success as evidenced by consistent referrals, repeat engagements and long tenures of candidates placed. For more information, visit http://www.mackinternational.com or call 800.976.0015.