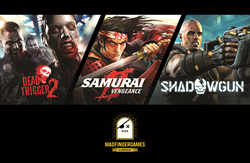 Brno, Czech Republic (PRWEB) June 04, 2014
MADFINGER Games arose to legendary status through consistent critical acclaim and the high ranking of their games in app communities. MADFINGER apps rank among the TOP10 in countries such as USA, UK, Germany, Russia, Brazil etc. They have achieved top positions in many awards rankings like: "App Store Rewind 2011" and the Apple "Hall of Fame", Unity "Best Technical Achievements" and "Community Choice", "Best of 2012, Google Games We Love" or Best App Ever Awards for "Best Action Game".
"As a genuine thanks to all our players out there, we've prepared significant improvements to our most acclaimed titles: SAMURAI II: VENGEANCE and SHADOWGUN. The community can expect graphic optimizations, improved performance and optimalization for iPhone 5 and other new devices and gamepads," explains Marek Rabas, CEO of MADFINGER Games. "In connection with our 4th Anniversary, we have also temporarily reduced the prices of SAMURAI II: VENGEANCE and SHADOWGUN," adds Rabas.
In order to help refresh the memory of 60 million satisfied players, here is a brief history of the games featured in the Anniversary Celebration:
SAMURAI II: VENGEANCE - the sequel to one of Apple's "Best Games of 2009", SAMURAI: WAY OF THE WARRIOR. With stylized manga graphics and virtual d-pad, dynamic camera, environmental puzzles, traps, and vicious enemies, Samurai II is a superb experience for hack 'n' slash gamers on the go.
SHADOWGUN – one of most acclaimed mobile platform games offering gamers a quality expected from console gaming systems. SHADOWGUN combines tactical combat with harrowing third person game play, ushering in a new visual standard for handheld gaming. SHADOWGUN puts players into the role of John Slade, a professional bounty hunter in the year 2350. Slade's mission: hunt down Dr. Edgar Simon, a renowned geneticist from the trans-galactic corporation, Toltech Enterprises.
MADFINGER Games is stable and dominant player in multimedia entertainment with a focus on mobile platforms. It was founded in 2009 and its games instantly attacked the upper echelons of sales rankings. Shortly after its inception, Madfinger Games began cooperation with noteworthy companies in the gaming industry and has been recognized with a series of prestigious awards. First and foremost due stunning visuals and excellent game play experiences. The MADFINGER team comprises over 50 employees who work hard drive the successful expansion of the studio's portfolio.
MADFINGER Games anniversary website: http://madfingergames.com/anniversary/
MADFINGER Games anniversary video: http://goo.gl/l92q6b
MADFINGER Games anniversary screenshots: http://goo.gl/kxxu1m