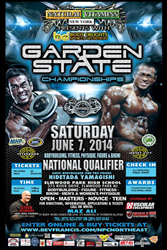 Elmwood Park, NJ (PRWEB) June 05, 2014
For the contestants who are in need of an enhancement or quick fix, Beach Bum will be on-site offering $25.00 touchups. It is Beach Bum Tanning's honor to be able to spray the Athletes during a crucial part of their competition. The wonderful people at Pro Tan chose Beach Bum Tanning to use their solution when airbrushing contestants, due to their attention to detail, professionalism and expertise they portray in their work.
For the last 25 years, Pro Tan has constantly perfected their formula to ensure they are providing the highest quality product on the market and so far they have! One of their recent improvements was creating a darker solution that would not be washed out from the lighting on stage. When the stage is set the contestants are ready to show off their incredible Physique and Tan!
Beach Bum Tanning has over 50 locations throughout Connecticut, New York, New Jersey, Virginia and West Virginia.