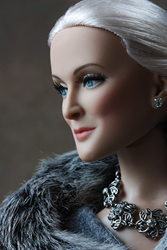 Carmen endures in an industry that thrives upon youth, and that says a lot about her presence on camera and on the runway. And it's time to celebrate beauty at all ages.-Robert Tonner
Kingston, NY (PRWEB) June 05, 2014
Tonner Doll Company, Inc., a mainstay in the collectible doll world for more than 20 years, is pleased to announce their latest groundbreaking collection, inspired by the longest-working super model today: Carmen Dell'Orefice, 83 years young. A working fashion model for 70 years, Carmen embodies grace, elegance and timeless beauty, and is the latest to become forever memorialized in vinyl by trailblazer Robert Tonner, company CEO and world famous doll artist.
"I think it IS a big deal that we are creating a doll in the likeness of a mature woman," Tonner emphatically states. "Historically, our dolls, like models, are more youthful. But Carmen endures in an industry that thrives upon youth, and that says a lot about her presence on camera and on the runway. And it's time to celebrate beauty at all ages."
Modeling since she was 13, Carmen has 6 Vogue covers under her belt, her first at just 15 years old. A part of the industry ever since, Carmen has represented the likes of Hermes, and Rolex, and has famously served as a muse to Salvatore Dali. Her laundry list of famed photographers is astounding: Norman Parkinson, Irving Penn, Francesco Scavullo, Constantin Joffe, Richard Avedon and more. In addition to Vogue Magazine, she has appeared in Harper's Bazaar, Vanity Fair and beyond. Walking the runway in her most recent fashion show in 2013, Carmen is a long-standing icon in the fashion industry.
"Working with Carmen has been terrific," gushes Robert Tonner. "She is beautiful, inside and out. Really, just a fascinating woman. I've always been captivated by her and inspired by her drive and, as an artist, having the chance to capture that is the stuff dreams are made of."
At 83, Carmen is still beautiful with her elegant cheekbones, bold eyes and signature cloud of white hair. Representing luxury, Carmen has been a face for Chanel, Christian Dior and more.
The Tonner Doll Company is known for their impeccable quality, design and ceaseless innovation. In 2002, Tonner made history with the production of the first-ever plus-size fashion model doll, Emme®, garnering national media coverage. Again in 2012, Tonner made a big splash in the media by creating a revolutionary doll of the tattooed wonder and fellow fashion model, Zombie Boy Rick Genést. Again ahead of the curve and going outside the proverbial box, the trendsetting doll company makes headlines with the Carmen Dell'Orefice collectible.
The Carmen Dell'Orefice Collection stands 16" tall, and comes complete with an ample shock of white, fine quality synthetic hair, hand-painted facial details and the meticulous craftsmanship Tonner has come to be known for. Each collectible doll has multiple points of articulation for dynamic poses and play, and a stand for easy display.
For more information, or to see the other incredible collections made by Tonner, visit http://www.tonnerdoll.com.
About Tonner Doll Company
Headquartered in Kingston, New York, Tonner Doll Company, Inc. develops and markets high quality collectible Character Figures and Dolls like TWILIGHT, Marilyn Monroe, James Dean, Gone With The Wind, The Wizard of Oz, and DC Stars, , as well as fashion dolls such as Tyler Wentworth™, Antoinette™, Precarious™, and Cami & Jon™.