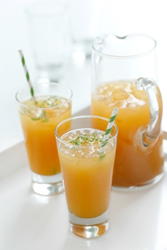 Vienna, VA (PRWEB) June 09, 2014
Just in time for another hot summer, U.S. Apple Association (USApple) – which represents apple growers and producers nationwide – has mixed up "Apple Ginger Chillers," a simple and refreshing mock-tail that tingles the taste buds with a delicious trio of apple cider, ginger beer and vanilla bean syrup ingredients.
"With The Old Farmer's Almanac predicting a hotter than normal summer nationwide, what better way to find refreshment than with a cool beverage featuring our all-American fruit?" said Wendy Brannen, USApple's Director of Consumer Health & Public Relations. "And, because Apple Ginger Chillers call for two cups of apple cider or juice, you're not only filling up on a delicious drink, but also you're getting two servings of daily recommended fruits."
APPLE GINGER CHILLERS
by U.S. Apple Association
Ingredients:
2 cups apple cider or juice
3/4 cups ginger beer (non-alcoholic)
1/8 teaspoon of vanilla bean simple syrup*
1 large mint leaf (sliced into small pieces to release its aroma)
Dash of apple bitters
*Vanilla Bean Simple Syrup Ingredients
1 vanilla bean seeded
2 cups sugar
1 cup water
Pinch of sea salt
Directions:
Bring simple syrup ingredients to a boil, strain and chill. Pour all ingredients together over ice and garnish with fresh mint leaf.
Interested in discovering more apple-based beverages this summer? USApple also suggests:

To see more apple recipes, visit USAppleBlog.org.
About USApple
The U.S. Apple Association (USApple) is the national trade association representing all segments of the apple industry. Members include 40 state and regional associations representing the 7,500 apple growers throughout the country, as well as more than 400 individual firms involved in the apple business. More information on the organization is available at USApple.org.
# # #