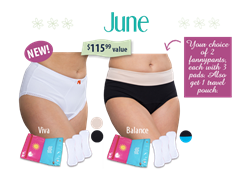 The high-quality panty can be worn with or without a machine-washable absorbent pad.
Neenah, Wis. (PRWEB) June 04, 2014
The CareGiver Partnership founder announces its June "Helping You Get On With Life" sweepstakes includes a SmartwearPanty prize bundle from Fannypants, a new line of premium-quality, machine-washable incontinence panties.
"The SmartwearPanty is a versatile solution for women who experience little bladder leaks when they jump, run, stretch, laugh, cough or sneeze. The high-quality panty can be worn with or without a machine-washable absorbent pad," says Lynn Wilson, founder of The CareGiver Partnership, a national online retailer of incontinence products and other home health care supplies.
The prize package, valued at $115.99, helps an active woman with light incontinence discover the benefits of Fannypants:

The Balance fuss-free bikini-style SmartwearPanty.
The Viva bikini-style SmartwearPanty with lace trim.
6 machine-washable, reusable microfiber SmartPads.
Colorful travel pouch with zip compartments for wet or dry pads.
The Smartwear line includes bikinis and briefs in cotton/spandex fabrics. Each design features a moisture-proof, stain-resistant gusset to hold an absorbent SmartPad. The panty can be worn with or without the pad — a machine-washable, reusable microfiber material that's 10 times more absorbent than disposable cotton pads. Creator Sophia Parker recently earned a 2014 Top Innovator Award from Apparel magazine for demonstrating exceptionality in combining fashion and functionality with environmental accountability.
The winner will choose from The CareGiver Partnership's available SmartwearPanty sizes: large (fits waist 34"–37", hips 39"–42"), extra large (waist 37"–40", hips 44"–46"), 2XL (waist 40"–43", hips 46"–49") or 3XL (waist 43"–45", hips 49"–51").
For a chance to win this month's prize package, participants need only e-mail info(at)caregiverpartnership(dot)com or mail a short statement explaining why the prize would be useful to him or her or a loved one. The CareGiver Partnership will accept entries for this prize through June 30, 2014, and will notify the drawing winner the first week of July.
To learn more about the two easy ways to enter and preview upcoming giveaways, visit The CareGiver Partnership "Helping You Get On With Life" sweepstakes page. Visit our blog for free access to hundreds of articles.
The CareGiver Partnership is a national direct-to-consumer retailer of home healthcare products for incontinence, diabetes, nutrition support and more. In its eighth year of providing products and services that help caregivers and loved ones maintain personal dignity, the company also offers an online library of more than 1,500 family caregiver resources and personal service by experts in caregiving. Call 1-800-985-1353 or visit online at caregiverpartnership.com.