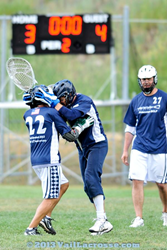 The video display will enhance the lacrosse experience for both our athletes and spectators.
Loveland, CO (PRWEB) June 19, 2014
The Vail Lacrosse Tournament is, by most accounts, the most prestigious annual Club Lacrosse tournament in the world. Past years have seen the United States National Team and the Canadian National Team enter the tournament. This year's tournament has expanded to include five new countries.
Colorado Time Systems, a PlayCore company, has been selected as the scoreboard provider for the 2014 Vail Lacrosse Shootout in Vail, CO June 29 - July 6. Colorado Time Systems will provide scoreboards for the competition fields, as well as a video display that will show a combination of recaps and live scoring for the various matches spread throughout Vail during the 8-day event.
"Lacrosse is one of the fastest growing sports in the world today," said Dr. Anita Sayed, PlayCore Senior Vice President and Colorado Time Systems' General Manager. "We are excited to participate in this event and show the Lacrosse community our new line of wireless, portable scoreboards and our video display solution."
"The Vail Lacrosse Shootout is excited to partner with Colorado Time Systems for our scoreboard needs again this year," said David Soran, Vail Lacrosse Shootout Tournament Director. "The video display will be a great addition to our tournament and will enhance the lacrosse experience for both our athletes and spectators. For information about the 2014 Vail Lacrosse Shootout, please visit our website at http://www.vaillacrosse.com."