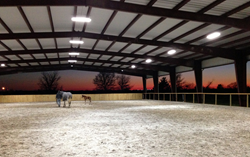 Fort Lauderdale, Florida (PRWEB) June 05, 2014
Building your very own indoor riding arena is surely the ultimate dream of any horse owner. If you offer training, boarding, breeding or event hosting services, a covered riding arena is a huge asset to your equine operations. Indoor riding arenas offer safe, controlled environments to ride and train year round regardless of weather conditions.
1. Find a suitable location
The arena must be designed up to your riding discipline. A clear, flat, and preferably elevated surface is best.
2. Draft your idea
The horses need to be comfortable, so you will have to think about how many horses you are hosting, their water supply, hot water supply, manure management system, hay and shavings storage, ventilation, etc. The more detailed your idea about the arena you want to build, the easier it will carry out your project.
3. Choose sizes
Dressage requires 20mx60m so an arena 80'x200' will allow for proper fencing and the required 20mx60m footprint. Roping arenas typically range from 100'x200' to 150'x300' depending on what events you are looking to host. If you want to attach stables to your arena, add a walkway around the riding surface, or incorporate sidewall skirts to block the late day sun, you must leave the appropriate space.
4. Look for the perfect partner
Finally, choose your building partner, search around and ask for references. Discuss the intended use, costs and maintenance implications for your arena. The builder will have a wealth of experience, sound advice and valuable knowledge. Next, the total capital investment may be established, and contractual clauses agreed.
5. Get local permissions
Find and learn your local permit requirements. In spite of the fact most arenas are built with agricultural permits, every town is different, and some are more specific than others. Be as prepared as possible before construction.
6. Maintenance and expansion
Although the building itself is maintenance free, irrigation systems to control dust and lighting are going to be your main concerns.
If you intend to increase the size of your equestrian facility in the future, you could even add to your project an expandable end wall, which will allow the steel building to be extended beyond it.
Allied Steel Buildings, is a unique building company in the steel construction sector. In its more than ten years of experience, the company has developed almost 4,000 different steel projects all over the world, delivering building solutions for diverse industries, from aviation to warehousing. One customer and one building at a time.
For more information, please contact us or visit alliedbuildings.com.