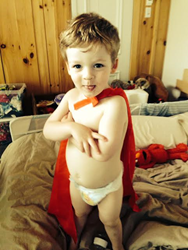 I'm not even sure I know how much activity [my son's] supposed to get in a day. And this is my livelihood, so I can only imagine how hard this must be for other parents.
Kingston, NY (PRWEB) June 04, 2014
On Thursday, June 12, fitness company Voom will be challenging people across the country to try to keep up with the most active being on the planet—a 3 year old boy. "Move When Jack Moves" is an opportunity for parents to learn firsthand about activity guidelines for children, while challenging themselves to a day of healthy behaviors, physical activity, and fun.
With summer just around the corner, many kids have lost, or are about to lose, access to the only place making sure they get at least some physical activity every day: school. As COO of Voom, Emily Soltanoff, mother of two, spends her days helping adults get more active. But as her son's school year comes to a close, she started to think about how she was going to keep him active and engaged this summer without the help of his teachers and friends. "I'm not even sure I know how much activity he's supposed to get in a day! And this is my livelihood, so I can only imagine how hard this must be for other parents."
Soltanoff decided that the best way to educate herself on the activity levels of a three year old was to go right to the source. "I thought, what would Jack (my 3 year old) do all day if he could do whatever his body told him to? Let me really experience what it's like to be as active as he is and needs to be, so I can replicate it this summer. That's when it dawned on me—this is a great way for me to get healthy too. And so Move When Jack Moves was born."
Move When Jack Moves is an event for anyone and everyone. All day long next Thursday, Soltanoff will be tweeting and posting pictures of Jack running, climbing, creeping, and crawling through his average day. When he's active, followers will receive a one minute "activity burst challenge," ranging anywhere from dancing to push ups. And when Jack is resting, Voom will provide informational tweets and posts about health and activity levels.
The human body was made to move, but in the modern world, most Americans don't get nearly enough physical activity. Children especially are most comfortable moving a little bit, then resting a little bit, all day long. Sitting for eight hours, then getting in all of your physical activity for the day in a one hour gym session is not optimal health for people of any age. Move When Jack Moves will be an opportunity for people across the country to see how good it feels to break up sedentary time with periods of activity.
To join the challenge, follow Voom on Facebook and Twitter, download the free toolkit, and get ready to snap pictures and move when Jack moves on June 12.
About Voom
Voom is a complete, cost-effective, fitness and wellness program that gets employees moving throughout the day through hourly exercise breaks. The program engages, motivates, and educates users on the importance of physical activity, making health and fitness both attainable and fun.
For more information about Voom's corporate wellness program, contact Gabrielle Shultis, Director of Marketing, at gshultis(at)voomwell(dot)com.