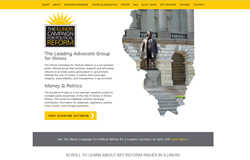 Idea's staff has been wonderful to work with and they continue to impress with each stage in the process, from design, implementation and follow up.
Chicago, IL (PRWEB) June 09, 2014
The Illinois Campaign for Political Reform (ICPR) recently ramped up their brand image and marketing materials, including a new website. Working with Idea Marketing Group, a Chicago based marketing group, ICPR integrated their database system with a web friendly SEO strong website built on Wordpress.
The Illinois Campaign for Political Reform in a leading non-partisan, non-profit advocacy organization focused on reforming Illinois campaign finance disclosures and limits, government ethics, judicial selection and voter education. ICPR was the first organization in the nation to put state-level campaign finance reports into a searchable, online database. The Sunshine Database is open for public use and now easily accessible from the new website. IPCR is routinely recognized by Illinois, national and international media as the key resource for Illinois politics and government.
ICPR also hosts events, including the upcoming luncheon "Illinois Leaders Discuss their Top Reform Priorities," on June 12, 2014 at the Union League Club of Chicago. This year features top legislative leaders John Cullerton, Christine Radogno, and Jim Durkin, who will talk about their top reform priorities for Illinois. ICPR hosts this signature event every year because of their dedication to informing the voters about current leaders reform priorities. More information about [the event __title__ ] is available here on their new and improved website.
"We are extremely pleased with the results produced by Idea. The staff has been wonderful to work with and they continue to impress with each stage in the process, from design, implementation and follow up," says Honorable Susan Garrett, Board of Directors Chair.
Illinois Campaign for Political Reform and Idea Marketing Group partnered together to update their branding with a new look and feel, keeping a professional look while still being exciting and unique. They also needed a website with user-friendly navigation and something simple to update. The new website was built with these goals in mind on the Wordpress platform, the site was optimized for search, and integrated with strong SEO components. The website also addressed the need to showcase and style their extensive Sunshine Database to match the website. The final result was a website that took a large amount of content and made it easily accessible with a user-friendly menu and search feature that give visitors the information they need quickly and efficiently.
Visit IPCR's website here.
Idea Marketing Group is a web design and marketing firm with offices in Chicago and Plainfield, IL. Since 2009, Idea strives to provide creative, unique and cutting-edge websites and individualized goal-driven marketing. Clients choose Idea Marketing for award winning web design and marketing services from an experienced and passionate web team that helps grow businesses. To learn more about ICPR or Idea, visit http://www.ideamktg.com or call 312.834.7001.