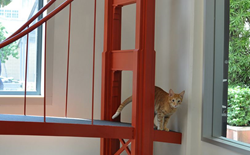 In our new shelter we'll be able to adopt out 20% more animals each year, saving 10,000+ lives over the next decade.
San Francisco, CA (PRWEB) June 03, 2014
Join the San Francisco SPCA on Friday, June 13, to celebrate the grand reopening of its newly remodeled adoption center! Come see the new shelter - and our adorable animals! - for yourself while enjoying free wine, beer, and cocktails. Several food trucks will also be on site serving up delicious snacks. The party lasts from 4:00 pm - 10:00 pm. If you do meet your furry new best friend, take him or her home for free! Adoption fees will be waived June 13 - 16 for adult animals (6+ months).
"Last year we completed more than 5,000 adoptions, the most in the SF SPCA's 145 year history," said Dr. Jennifer Scarlett, SF SPCA co-president. "Unfortunately that was the maximum capacity of our old shelter, so to continue to grow we needed to renovate. In our new shelter we'll be able to adopt out 20% more animals each year, saving 10,000+ lives over the next decade!"
"When our old adoption center opened in 1998, it was the first shelter in the country to house animals in condominium-style rooms instead of cages," said SF SPCA co-president Jason Walthall. "Our old shelter changed the way adoptions happen and vastly improved the lives of shelter animals. With our new adoption center we're once again setting the standard for shelters across the country; it's the perfect example of why San Francisco is one of the most progressively humane cities in the world."
The new adoption center was designed to make animals as comfortable and safe as possible during their stay at the shelter. An indoor dog park will give dogs the opportunity to play, socialize, and meet their new families. Meanwhile, cats will enjoy more vertical space to climb, play, and explore. In addition, the shelter features a new section for small mammals like rabbits, hamsters, and guinea pigs.
Visitors, volunteers, and staff will also greatly benefit from the new design. Visitors will enjoy more opportunities to interact with the animals, and wait times to meet an animal or adopt will be greatly reduced. The new layout expands and improves space for volunteers, and also improves worker safety.
The SF SPCA will be offering private tours for members of the media throughout the month of June. If you're interested in booking a private tour, contact Krista Maloney at kmaloney(at)sfspca(dot)org.
RSVP required for grand reopening party: 7x7sfspca2014.eventbrite.com
Sponsored by Subaru, Zipcar, Zoetis, and 7x7.
For more details, visit sfspca.org/grandreopening.
The San Francisco SPCA
The San Francisco SPCA is an independent, community-supported, non-profit animal welfare organization dedicated to saving, protecting and providing immediate care for cats and dogs who are homeless, ill or in need of an advocate. The SF SPCA also works long-term to educate the community, reduce the number of unwanted kittens and puppies through spaying and neutering, and improve the quality of life for animals and their human companions. The organization does not receive government funding and is not affiliated with any national organization.
Support the San Francisco SPCA by adopting, donating, volunteering and becoming a client of the state-of-the-art veterinary hospital. The SF SPCA has volunteer opportunities to care for shelter dogs and cats, conduct adoption counseling, assist clients and veterinary staff, provide foster care, help with the Community Cats Program, and enrich the lives of people in the community through animal-assisted therapy.
For more information about San Francisco pet adoption, call the San Francisco SPCA at (415) 522-3500 or visit sfspca.org.