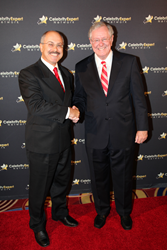 Orlando, FL (PRWEB) June 03, 2014
Cherif Medawar of http://www.CMREI.com today announced his 'rules' for financial success have been included in Steve Forbes' latest best-selling book, "SUCCESSONOMICS," which features the nation's top entrepreneurs and professionals who share their secrets to success in the new economy.
"SUCCESSONOMICS" focuses on how to achieve life's goals through fiscal competence and how the concept of 'success' combined with economics is a formidable financial combination. Medawar's breakout chapter '12 Steps to Financial Freedom,' explains how people with money—and those with little to no money—can achieve prosperity.
Rule 1. You Must get the best education, not only academic and professional but financial as well.
Rule 2. You Must work for the best company in your field of endeavor, the larger the company the better the apprenticeship, the income and the benefits.
Rule 3. You Must learn leadership skills and it all starts with self managing, followed by directing others and finally coordinating time, money and effort to get meaningful projects done.
Rule 4. You Must start saving. This is a great habit to develop and nurture for a lifetime. It teaches you to be disciplined about money and to always have some available cash for a rainy day.
Rule 5. You Must build credit. Building credit is a vital step in having money to make deals happen. Building credit is a two-prong endeavor. You must build personal and business credit and keep watching and growing both throughout life.
Rule 6. You Must flip assets. Buying low and selling high is an important endeavor that can turn your credit lines into real cash reserves and the more you do it the faster you grow your capital and build momentum.
Rule 7. You Must reduce your taxes. Taxes are the single largest expense you will encounter every year for the rest of your life. As soon as you start making the big money you owe it to yourself and your future to learn the legal and proper methods to structure your business to reduce, defer and eliminate taxes by taking full responsibility of this step.
Rule 8. You Must buy and hold assets. You will never become truly wealthy until and unless you hold good assets like commercial real estate that meet and beat inflation along its ability to provide reliable growing income for your future and that of your loved ones.
Rule 9. You Must protect your assets. Avoid attorneys who tout complicated multi step structures. Use the simplest set up that holds up in federal court and simply eliminate the equity in your assets and have it reflect as debt owed to a separate company that you control.
Rule 10. You Must have a retirement plan. Use the creative newer insurance programs that offer a structure that gives you life insurance and tax deferred practically tax free investment opportunity.
Rule 11. You Must share your knowledge. Create a bigger game and write as well as speak about your life and business experiences to help other aspiring people to do well and succeed.
Rule 12. You must build a legacy. Consider setting up a charity and helping others who are under privileged. Those whom you do not know but you share the planet with. Imagine if each one of us could leave the world better than we have found it?
Through his commercial real estate training, tax structure and asset protection programs, Medawar has helped hundreds, if not thousands, of people reach their maximum potential and achieve success in life and in business. Medawar's training and investment company, CMREI, can guide investors through the steps to financial freedom.
For more information on CMREI and Cherif Medawar, please visit http://www.cmrei.com
About Cherif Medawar Real Estate Investing
For 20 Years Cherif Medawar, Founder of Cherif Medawar Real Estate Investing, has been sharing his successful Real Estate Investing techniques. He now makes it possible not only to learn alongside him but to invest where he invests and 'earn while you learn.'
Those wishing to learn more and/or get involved with his successful business models including how to syndicate large commercial deal should attend a free presentation held by Cherif Medawar personally. For dates, times and locations please go to: http://www.cmrei.com.