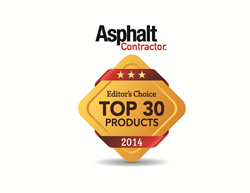 Equipment is the lifeblood of our readers' businesses -- the right equipment choices can mean the difference between a profit or a loss on a project.
Fort Atkinson, WI (PRWEB) June 04, 2014
Asphalt contractors researching construction equipment purchases can find the industry's preferred products, courtesy of the editors of Asphalt Contractor, the only magazine dedicated to asphalt producers and contractors, and visitors to ForConstructionPros.com, the construction industry's #1 web portal.
The Top 30 Editor's Choice Awards were chosen by the Asphalt Contractor editorial staff for meeting a set of criteria including longevity and consistency in the market, dependability, productivity and innovation. To gauge readers' preferences, they also factored in how much interest these products received on the Buyers Guide at ForConstructionPros.com/Asphalt.
"Equipment is the lifeblood of our readers' businesses -- the right equipment choices can mean the difference between a profit or a loss on a project," asserted Lisa Cleaver, Asphalt Contractor editor. "Every asphalt contractor has his or her favorite piece of equipment. Some pieces of equipment have proven their prowess for adding profits. Others are popular for their ease of use and high productivity. And then there are those exciting new introductions which offer the latest innovations. To honor those products which achieve these ideals, we have introduced the Top 30 Editor's Choice Awards."
Congratulations to the following companies and products identified as the 2014 Top 30 Editor's Choice Awards. Additional information on the winning products can be found in the May issue of Asphalt Contractor or at ForConstructionPros.com.
Ace Group, ACEBOND
Asphalt Drum Mixers, RAP Recycle Systems
Almix, Batch & Dratch Plants
Astec Inc., Double Barrel
Bergkamp Inc., SP Series Patchers
BLS Enterprises, Poly Track Pads
Bobcat Co., APT System
BOMAG Americas, BW284AD Roller
Carlson Paving Products, CP-100 Paver
Caterpillar Paving Products, Grade & Slope System
Falcon Asphalt Repair Equipment, MINI Recycler & Hot Box
Heat Design Equipment, P200 Heater
H.E.A.T., Hot Spot
Hitek Equipment, Pavijet MG7
KPI-JCI - AMS, Vanguard Crusher
Maxam, SOLO Drum Mixer
Powermoon, LED Balloon Light
Roadtec Inc., SP 200e Spray Paver
Rosco, Maximizer 3
Sakai America Inc., 700 Series Rollers
SealMaster, CrackPro
Stansteel, Hot Oil Heat Exchangers
TransTech Systems, PQI 380
Trimble Navigation, PCS 900
Vogele, 5200-2i/5203-2i Pavers
Volvo, P7110/P7170 Pavers
Valley Slurry Seal, Macropaver 12B
VT LeeBoy Inc., Legend Screed System
Weiler, E550A
Wirtgen America, WR 240i
Construction professionals can follow asphalt construction news via Twitter and Facebook.
About Asphalt Contractor magazine
Published 10 times each year, Asphalt Contractor magazine provides cutting-edge information on the entire life cycle of asphalt pavements – from production to paving to preservation – in every issue.
Cygnus Business Media reaches millions of professionals annually. As one of America's top business-to-business media companies, Cygnus is leading the way in providing targeted content to top decision-makers and organizations. The company's corporate initiatives and organizational architecture are built with one goal: to fully engage audiences in building and construction, public safety and security, aviation, transportation, printing, accounting, vending, and other markets.